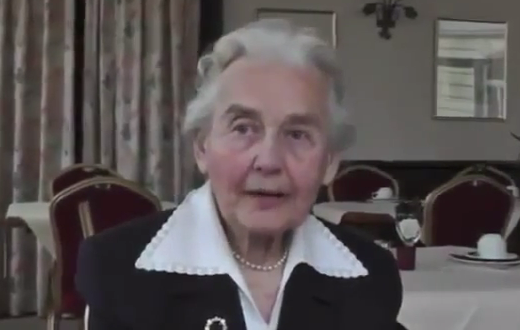 Ursula Haverbeck, 89, was arrested after failing to show up for the beginning of her two-year prison term for denying the Holocaust. [The media has branded her as the Nazi Grandma, but there is nothing in this story that  supports the idea that she is an admirer of the Nazi regime or its collectivist ideology. Her crime appears to be only that, after ten years of asking authorities for proof that there actually were six-million executions in the Nazi prison camps, and never receiving any response to her request, she concluded that the Holocaust story was a politically motivated myth. She does not deny that Jews (and Poles and Gypsies) were prisoners in forced-labor camps or that their labor was needed in the Nazi factories to produce weapons, or that many of them perished from beatings and malnutrition. Her position appears to be that the authorities have failed to produce hard evidence that six-million prisoners were executed – especially when they were needed alive for slave labor in Hitler's war factories. For holding this opinion, she has been imprisoned. What do you think? In a free society, even if Haverbeck were a believer in the Nazi collectivist ideology or, for that matter, in the Communist collectivist ideology, should that be the basis for punishment by the state? Please send your response to
[email protected]
.] -GEG
German authorities say they've apprehended a notorious elderly neo-Nazi and taken her to prison to begin serving her sentence for Holocaust denial. Police and prosecutors told the dpa news agency Monday that Ursula Haverbeck, 89, was picked up at her home in the town of Vlotho in central Germany.
Haverbeck, dubbed "Nazi-Oma" (Nazi grandma) by German media, was convicted of incitement last year in Verden state court and sentenced to two years in prison for denying the Holocaust, a crime in Germany.
She was supposed to report to prison last week but vanished, prompting a search for her. It was not immediately clear when she returned home.
Haverbeck was a chairwoman of a far-right training center that was shut down in 2008 for spreading Nazi propaganda. In a 2015 trial, she said Auschwitz was "not historically proven" to be a death camp, the Agence France-Presse reports. She also appeared on television and said the Holocaust "is the biggest and most sustainable lie in history."