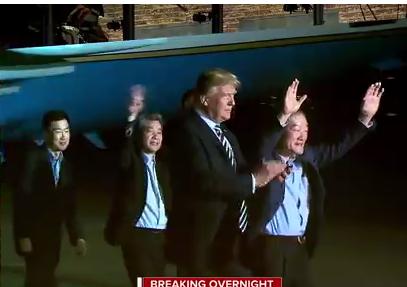 North Korea freed three US detainees, Kim Hak Song, Tony Kim, and Kim Dong Chul, as an act of goodwill before President Trump meets with dictator Kim Jong Un for a peace summit in Singapore in June. The three men spent more than a year in prison on charges of hostility and espionage against North Korea but which are believed to be made-up charges to demonstrate defiance against the US. -GEG
About an hour before Secretary of State Mike Pompeo's plane took off from the North Korean capital Wednesday night, three Americans, Kim Hak Song, Tony Kim and Kim Dong Chul, were given back their freedom. Their release following more than a year in the country's secretive prisons marked a significant diplomatic détente as Pompeo lays the groundwork for a forthcoming summit between President Donald Trump and North Korean leader Kim Jong Un.
The release of American prisoners, which Pyongyang has been accused of using as political bargaining chips, has been a priority of the White House as it moves for more engagement with the Kim regime. But the last time North Korea freed a detained U.S. citizen, in June 2017, what almost looked like an act of good faith took a sudden and sinister turn; Otto Warmbier, by then a 22-year-old college student, died within a week of returning to his hometown of Cincinnati, Ohio in a coma.
The three detainees who have just been released landed early Thursday morning at Joint Base Andrews near Washington, D.C., where they were greeted by President Trump, First Lady Melania Trump, Vice President Mike Pence and his wife, Karen Pence. Throughout two flights they took to get home from the North Korean capital, they reportedly remained sequestered from contact beyond a team of medical professionals, including a psychiatrist. The State Department discussed only the most basic details about them, according to the Associated Press, and little is yet known about their health status. All three walked across the tarmac in Pyongyang before boarding, and off a medical plane upon their arrival in the U.S.
Who are these three Americans, who lost more than a year of their lives in detention? What did they do, and why were they taken prisoner? Here's what we know about Kim Hak Song, Tony Kim and Kim Dong Chul.