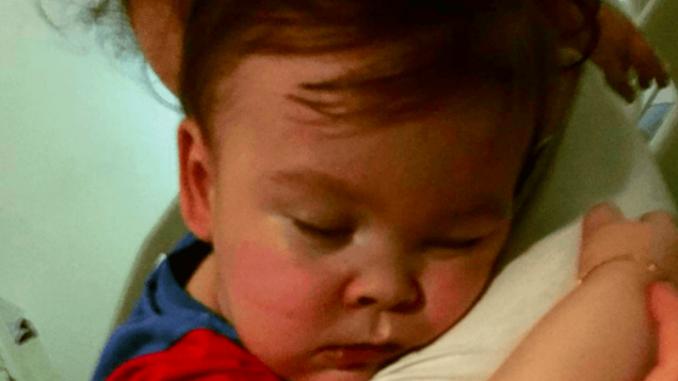 UK: Merseyside Police threatened people posting messages on social media who oppose the decision by the Alder Hey Children's Hospital to remove the life support system from Alfie Evans, a 23-month old baby, which amounts to a death sentence, a consequence of socialized medicine and government control over health.  Alfie Evans fell into a coma a year ago from a mystery illness.  The doctors said it is in the baby's best interest to stop the mechanical ventilation, and his parents lost their court battle to take the child to Italy for treatment.  They have been denied the right to take him home.  Alder Hey Hospital was on lockdown amid rumors of a planned raid by protesters supporting the sick toddler.
The police of Merseyside England have issued a thinly veiled threat against all users of social media who defend the life of Alfie Evans and accuse the Alder Hey Hospital of gross misconduct in holding him prisoner against his parents' wishes.
On Facebook, the police force posted a statement "following reports of social media posts being made in relation to Alder Hey Hospital and the ongoing situation with Alfie Evans."
According to Chief Inspector Chris Gibson, "Merseyside Police has been made aware of a number of social media posts which have been made with reference to Alder Hey Hospital and the ongoing situation involving Alfie Evans."
"I would like to make people aware that these posts are being monitored and remind social media users that any offences including malicious communications and threatening behaviour will be investigated and where necessary will be acted upon," the statement warns.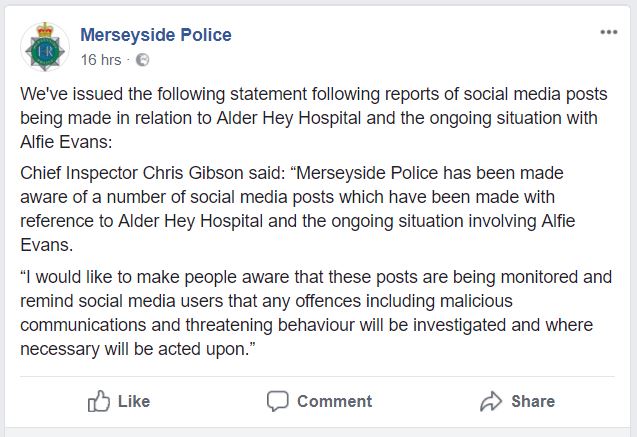 If the Merseyside Police make good on their threat, they will have their work cut out for them, given the number of important public figures who have come out on social media in defense of little Alfie.