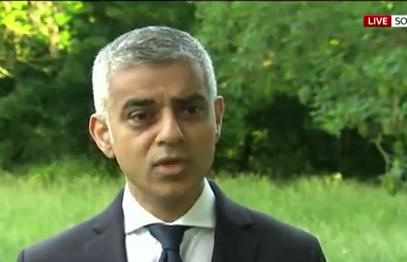 Most of the murders in the UK are from knife attacks, as the nation has some of the strictest gun control laws in the world, and they are now considering knife control laws. The murder rate in the UK has surpassed that of New York, and more than 50 people have been killed there so far this year. London Mayor Sadiq Khan is calling for police to use the "stop and search" technique that he clamped down on and referred to as "racist." He said it undermined public confidence in the police, but now he says stop and search is a "vital tool." Mass immigration is the source of the problem.
Amid a huge spike in murders in his city, London Mayor Sadiq Khan is calling for heavy knife control and the increased use of a police technique that he had once referred to as "racist."
London has seen more than 50 homicides already in 2018. Most were committed with knives. London has had strict gun control measures in place since 1920.
The Daily Wire reported that UK Parliament "is also set to take up heavy 'knife control' legislation when it resumes this week."
In February and March, London for the first time in modern history had more homicides than New York City.
If the trend continues, London will far surpass the 130 murders in 2017 and reach a number not seen since the early 2000s.
Among the immediate measures Khan intends to take are the deployment of hundreds more police officers to crime-ridden neighborhoods and the use of "stop and search" by police.
During his mayoral campaign in 2015, Khan said he would do "everything in my power to cut stop and search," claiming it "undermines" public confidence in local government and policing systems.
Amid the current crime wave in London, however, Khan calls stop and search a "vital tool."
Other measure being taken include a ban on home deliveries of knives and acid, two of the most common weapons used in London today.