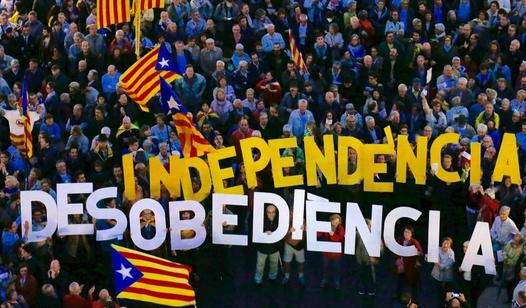 Catalonia: 90% of voters favored independence from Spain in the referendum held on October 1st. However, less than half of the eligible voters participated, which means independence is not as urgent an issue as the 90% vote would indicate. [The dominant forces agitating for independence are the EU Commission, the Green Party and George Soros. It is not an organic sentiment.] Spain's top court declared the referendum illegal. Spain threatened to invoke Article 155 that would take away the region's autonomy if Catalonia proceeds with its plan to secede. [Globalists will benefit greatly if secession is achieved – and Catalonia will become less independent than it is now, because it will be subject to authoritarian rule by the EU and the UN.] -GEG
The Spanish central government moved Saturday to invoke a never-before used constitutional article that would strip Catalonia of its autonomous power, calling it a last resort to "restore order."
Spanish Prime Minister Mariano Rajoy said he wants his Senate to give him direct power to dissolve the regional Catalan government and to call an early election as soon as possible. The Senate is likely to approve Rajoy's request.
Rajoy's Cabinet met in a special meeting Saturday morning to approve measures to take direct control of the Catalan region under Article 155 of the Spanish Constitution.
Rajoy proposed the powers of Catalan officials be taken over by central government ministers.
The meeting came almost three weeks after a controversial referendum seeking the region's independence, which was later ruled illegal by the country's Supreme Court.
Catalan leader Carles Puigdemont has argued the referendum result gave him the mandate to move forward with independence.
What is Catalonia?
Located in the northeast region of Spain, Catalonia is largely independent with its own culture and language. It's one of the richest and most industrialized areas of the country with a heavy emphasis on manufacturing, according to the BBC.
The region, which includes Barcelona, is home to about 7.5 million people.
Valuing its autonomy, Catalonia has its own parliament and executive, called "Generalitat" in its language.
Why do they want independence?
Because of its own cultural identity, those in favor of Catalan independence have pushed for the region to become separate from Spain. Supporters also believe that they have given more to the Spanish government than they have gotten back.
The push for independence "raises questions of the future of democracy and democratic rule," Pamela Radcliff, a University of California, San Diego professor and modern Spain historian, told Fox News. "What's being contested between Spain and Catalonia, one of the things is different visions of what defending democracy looks like."
The push for independence is led by Puigdemont, the president of Catalonia. The region held a referendum on Oct. 1.
How did the vote go?
About 90 percent of the 2.3 million people who cast votes chose independence, Catalan officials said of the disputed referendum. However, fewer than half of eligible voters participated.