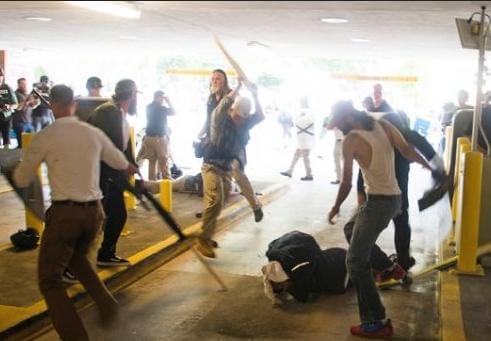 Virginia: Mainstream media reports that a warrant was issued for the arrest of DeAndre Harris, a black man who was seen in a video that went viral being beaten by right-wing white men during the demonstration-turned-riot in Charlottesville. However, the media failed to publish videos that appear to show Harris striking the first blow prior to the beating, [Please be aware that it is our belief that there are no good guys in these violent confrontations. Both sides are led by professionals whose mission is to create violence, chaos, and hatred sufficient to justify martial law, which is the end game that the hidden manipulators seek. Commenting on the detestable behavior of someone on one side of the conflict does not mean that we are supporters of the other side.] -GEG
Here is the mainstream-media report from the National Post.  Notice that they, and other mainstream media outlets, fail to publish videos that show the other side of the story. Viewers, naturally, will be incensed at what they perceive as an unprovoked attack by whites.
Magistrate issues arrest warrant for black man beaten at white nationalist rally in Charlottesville
This video shows the lead up to the beating in the parking lot. The narrator says that DeAndre joined black agitators who were carrying baseball bats and that DeAndre was insulting the white men. Black agitators and Antifa chased a white man into the parking garage and beat him unconscious with a baseball bat. Mainstream media did not widely report this.
Strong language and graphic violence warning.
Here is the video that went viral, showing the beating by white men, with Harris on the ground:
Again, here is the video that appears to show DeAndre striking the first blow: