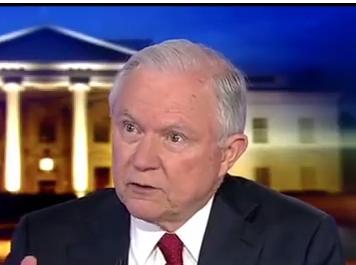 US Attorney General Jeff Sessions announced that the Justice Department now will ensure that free speech is not hindered on taxpayer-funded colleges and universities. An estimated 1 in 10 US colleges have 'free-speech-zone' policies that limit freedom of expression on campus to out-of-the-way areas. Sessions takes issue with college administrators who prohibit speech in advance of an event if there is a possibility that it will be met with protest. This is a concept known as the "heckler's veto' whereby free speech can be denied simply by some organization threatening to demonstrate against it.
The Trump administration thrust itself into the midst of the battle over free speech on college campuses Tuesday, siding with activists in a case challenging a Georgia school's strict limits on where and how students can express themselves.
Attorney General Jeff Sessions warned that freedom of thought and speech are "under attack" on college campuses, and he called on university officials to "boldly and unequivocally" defend free expression rather than stifle it.
"The American university was once the center of academic freedom — a place of robust debate, a forum for the competition of ideas," Mr. Sessions said as he spoke to students at Georgetown Law School in Washington. "But it is transforming into an echo chamber of political correctness and homogenous thought, a shelter for fragile egos."
While the attorney general said the problems concern all sides of the political spectrum, the case in which the Justice Department sought to intervene involved a Christian student who challenged Georgia Gwinnett College's "free speech zone" policy.
Chike Uzuegbunam said the school violated his First Amendment rights when officials told him he could not distribute flyers about his Christian faith unless he did so in one of the school's two "free speech expression areas," and even then he would be required to get advance approval.
The Justice Department filed a statement of interest in the case, which allows government attorneys to weigh in on legal matters presented without being party to the lawsuit.
The department said the college's speech policies "were not content-neutral, established an impermissible heckler's veto, and were not narrowly tailored to achieve a compelling government interest."
Dozens of students and law school faculty protested Mr. Sessions' speech by kneeling on steps outside the building. The demonstration harked to pro football players who knelt during the national anthem before games this year.
A handful of protesters who attended Mr. Sessions' speech stood briefly with tape over their mouths after he finished.
The Justice Department moved in the Georgia case as universities across the country are struggling to find a balance between free speech and, in cases of state universities, the First Amendment and protecting students who say they are offended or feel threatened by the views of others on campus.
Over the weekend, the University of California, Berkeley, spent $800,000 to provide security for an appearance by conservative speaker Milo Yiannopoulos, who spoke for just 15 minutes before noisy protests cut him off.
As college administrators seek to walk that line, they often have settled on overly restricted policies, said Ken Paulson, president of the Newseum Institute's First Amendment Center.
"You can set policies for how a speaker gets invited, establish broad guidelines on where speech is permissible, but you can't do that in a way that targets one point of a view or another or limits free speech on campus," Mr. Paulson said.
Mr. Sessions said the Georgia case is just the beginning and the Justice Department intends to file statements of interest in other college free speech cases.
"A national recommitment to free speech on campus and to ensuring First Amendment rights is long overdue," Mr. Sessions said.
He took specific issue with college administrators who sought to prohibit speech in advance if there is even a threat that such speech will be met with protest — a concept known as the "heckler's veto."
"This permissive attitude toward the heckler's veto has spawned a cottage industry of protesters who have quickly learned that school administrators will capitulate to their demands," Mr. Sessions said. "Protesters are now routinely shutting down speeches and debates across the country in an effort to silence voices that insufficiently conform with their views."