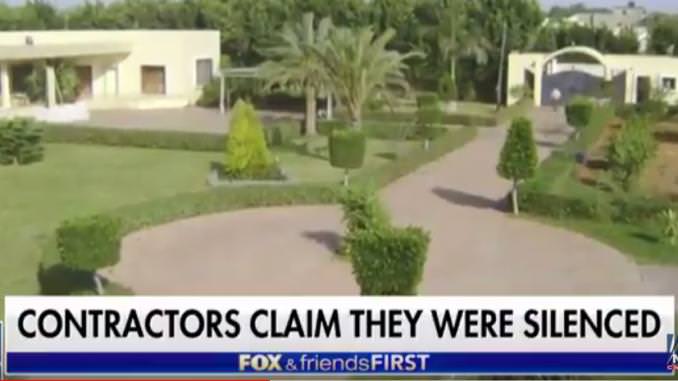 Jerry Torres, CEO of Torres AES, which supplies security for US embassies across the world, and a Torres employee, Brad Owens, say that their bid for the contract to protect the US Embassy in Benghazi was rejected in favor of a small Welsh security contractor who hired local guards and did not arm them. It was as though there was a deliberate attempt to strip the embassy of effective protection. Torres said that the State Department told him not to speak to the media or any officials related to the Benghazi program. The people who made the devastating decisions during the Benghazi attacks are still in control over security for embassies. -GEG
A State Department security contractor says that it was asked to provide security at the U.S. consulate in Benghazi after a rival company failed to do the job, just 12 days before the terror attack of Sep. 11, 2012, which claimed the lives of four Americans.
Torres Advanced Enterprise Solutions, a large, Virginia-based security and private military contracting firm, told Breitbart News that the State Department approached the company less than two weeks before Ambassador Christopher Stevens and three other Americans were brutally murdered.
Blue Mountain Group, the small Welsh security contractor to which the State Department initially awarded the contract over Torres's bid earlier in the year, was allegedly failing on the job.
Torres, which is owned and operated by U.S. Special Forces veteran Jerry Torres, was initially denied the contract. Before Benghazi, Torres had provided armed guards for the United States embassies in Iraq, Afghanistan, and throughout the world. Blue Mountain, which is based in Wales, was apparently largely unknown in private contracting circles that were hired to work for the United States until the fateful attack on September 11, 2012.
"If we had been awarded that contract to protect the embassy compound in Benghazi, those men would still be alive today," Bradley Owens, the political affairs officer for Torres told Breitbart News.
Owens said that on August 12, 2012 — just six months after Blue Mountain won the State Department contract for Benghazi — State Department official Jan Visintainer asked Torres's director: "Hey, can Torres perform in Libya?"
Owens added:
We were asked 12 days before the attacks if we can come in and take over security. So they knew it wasn't safe. Wait, it gets worse. We, of course, said yes. I got an email from our director of operations. We were going to rent a compound that was half a kilometer from the compound in Benghazi.

We were going to have a six-man team on the ground that were all ex-pat. And because of the work we were doing in Libya pre-and-post the war, we had a lot of friends who were Libyan and who knew how to fight.
John "Tig" Tiegen, one of the CIA contractors that responded to Benghazi, and co-author of 13 Hours: The Inside Account of What Really Happened in Benghazi, told Fox News that the at least four of the local Libyans who attacked the U.S. consulate included guards working for Blue Mountain.
"Many of the local Libyans who attacked the consulate on the night of Sept. 11, 2012, were the actual guards that the State Department under Hillary Clinton hired to protect the consulate in Benghazi," Tiegen told Fox News last year. "The guards were unvetted and were locals with basically no background at all in providing security. Most of them never had held a job in security in the past."
In addition, Owens told Breitbart News that the Blue Mountain contractors guarding the consulate were armed with batons. "The security situation had deteriorated, so the Benghazi contract never should have been an unarmed contract."
Owens said that he told the State Department that it would taken 30 days for the company arrive on the scene and be ready to perform. "They would have had to end the contract [with Blue Mountain] and give it to us. It would have taken us a month to get set up."