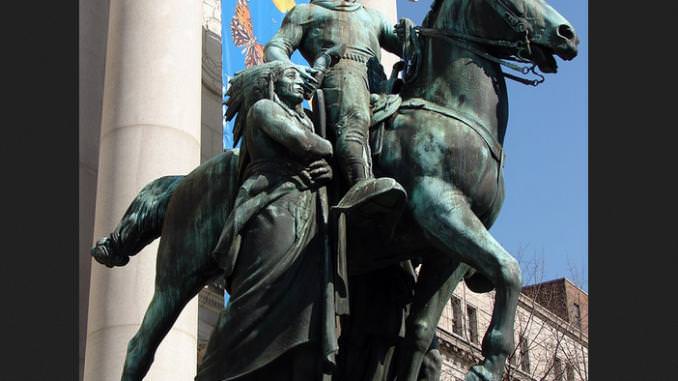 Leftists are demanding that a Teddy Roosevelt statue be removed from the New York Museum because he was a 'racist'.  On that same day, reporters from mainstream media belittled President Trump's question of whether leftists would pursue the destruction of statues of George Washington and Thomas Jefferson.  The organization behind this demand is 'NYC Stands with Standing Rock and Decolonize This Place'. They also are calling for Columbus Day to be renamed Indigenous People's Day. [Don't laugh. These haters of America are winning their battles. Time is running out to defeat them
. Freedom Force awaits you
.] –GEG
Social justice warriors are never satisfied. If you give them an inch, they'll take a mile. After demanding that southern states take down statues of Confederate figures, the activist Left is now targeting an iconic American president featured on Mount Rushmore.
On Monday, more than 200 SJW zealots held a protest inside the American Museum of Natural History in New York City to take down the supposedly "racist" statue of former President Theodore Roosevelt. The protest's organizers, NYC Stands with Standing Rock and Decolonize This Place, also called for Columbus Day to be renamed Indigenous People's Day.
"A stark embodiment of the white supremacy that Roosevelt himself espoused and promoted," pontificated the group of protesters in a statement. "The statue is seen as an affront to all who pass it on entering the museum, but especially to African and Native Americans."
Marching around the museum in a fit of self-righteous rage, protesters carried signs that read "BLACK LIVES MATTER," "DECOLONIZE THIS MUSEUM," and "ABOLISH WHITE SUPREMACY."
The entire spectacle was underscored by a sort of religious fanaticism.