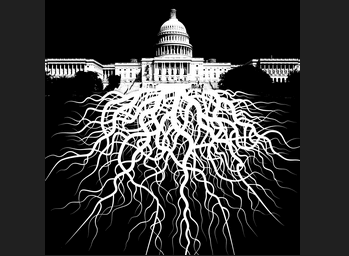 The 'Sane Progressive' shows that war is the business model of the deep state and explains how both Democrats and Republicans are committed to it.  This may shatter your world view.
Debbie Lusignan, known on the internet as the Sane Progressive, revealed why Steve Bannon was squeezed out of his position as President Trump's chief of strategy: he objected to war.
The
New York Times
even referred to Bannon as the "resident dove" in the White House who objects to making military threats and deploying troops across the globe, including Afghanistan, North Korea, Syria and Venezuela.
She said that after General Flynn was pressured to resign, Trump appointed General HR McMaster as
his national security advisor
to placate the deep state so that he may finish out his term in office.  President Trump then gave decision-making power to the generals, which affects foreign policy.  She characterized McMaster as a war monger who is supported by liberal interventionists and right wing neocons, and bankers and billionaires.  She described Secretary of State Rex Tillerson, General McMaster and General Mattis as war criminals.
Lusignan says that war is the driving agenda of of our government, and the media is at its service.
War is the business model.
She pointed out the hypocrisy of Anti-Trump protesters who rail against hate, yet they are silent or supportive of war.  War is the physical embodiment of hate.
The deep state and their mouthpiece, the media, are making it toxic to associate with Trump, in order to pressure Republicans in Congress to abandon him and his policies.  Empire destroys from within and the media sets the discussion.  She called out the media for their lies, and said that they are traitors to our country and to humanity.
The media continually hammers the message that Trump must be opposed.  The controllers have painted themselves into a corner, however, because they will want support for Trump if he pushes war.
She pointed out that the Russian collusion investigation accomplishes three things: it obfuscated election fraud, it advanced the wars based on lies, and it frames anyone who speaks out against the wars as a security threat.
Finally, she revealed the underlying plot of how the military industrial complex, which is controlled by a handful of bankers, plans to bring our country into full scale war:
•  Marginalize the opposition and make them seem to be fringe groups, like the Alt-Right, many of whom voted for Trump because he wanted to leave of Syria.  Liberals against war are also being lumped in with the radicals in Antifa and are now labeled the Alt-Left.
•  The
Countering Foreign Propaganda and Disinformation Act
, passed overwhelmingly by both parties and signed by Obama in 2016, authorizes the State Department and Defense Department to promote propaganda and to crack down on any media outlet and claim that it is a national security threat.
•  People who oppose war and the alternative media may now be charged with being a security threat.
•  The final step is a police state.
The Sane Progressive then says that our efforts should be directed at refusing to support the mainstream media's lies and stop doing what the controllers want us to do.