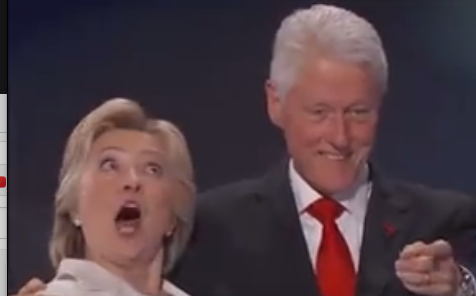 Hillary is launching a new organization, Onward Together, to build a network of Democrat candidates in the 2018 elections.  She needs a new stream of income, since her other organizations have dried up. Her new PAC (Political Action Committee) is a 501(c)4 organization, which will enable her to accept money from unidentified donors. Perfect! The defunct Clinton Foundation is morphing into 'Pay-for-Play Version 2'. –GEG
Two-time failed presidential candidate Hillary Clinton officially launched a new organization on Monday, "Onward Together," with the stated goal of "advancing the vision that earned nearly 66 million votes in the last election." Put more bluntly, the group's mission is to advance Clinton's agenda, which was unable to defeat Donald Trump.
The devil's usually in the details, is it not? The detail that is smashed to the bottom in fine print is this.
Contributions or gifts to Onward Together, a 501(c)(4) organization, are not tax deductible as charitable contributions or as business deductions.
Translated: you can't write that off and we take all the profit, thank you very much, you ignorant dupes, you useful tools. Because, after all, we deserve it and we are much smarter than you.
By listing itself as a 501(c)(4), Clinton is able to take so-called "dark money," or money from donors who legally do not have to be disclosed, in unlimited amounts.