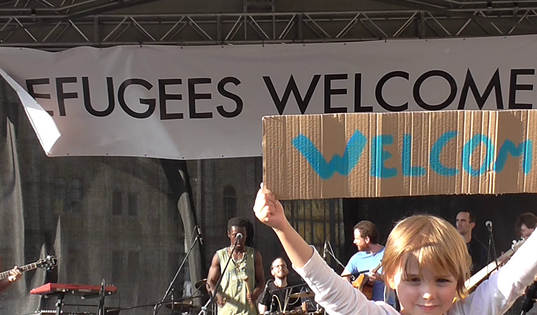 The German government, supported by Angela Merkel, granted nearly 270,000 Syrians in Germany the right to bring in family members.  More than a million migrants flocked to Germany in 2015 and 2016, but arrivals have dropped significantly. This new rule is expected to cause Merkel and her Party to fall in popularity in the upcoming September elections.  –GEG
Around 270,000 Syrians have right to bring families to Germany: report
Around 270,000 Syrians in Germany have the right to bring in their family members, a newspaper said on Wednesday – a statistic that could fuel the debate about migration less than six months before a national election.
Mass-selling tabloid Bild cited a government paper as showing a total of 431,376 Syrians applied for asylum in Germany in 2015 and 2016 and said that of those 267,500 would be entitled to family reunifications in Germany.
That could play into the hands of the anti-immigrant Alternative for Germany (AfD) party, which has lost support in recent months as the refugee issue recedes from the headlines ahead of a Sept. 24 election.
Senior AfD member Alexander Gauland condemned the figures, saying it was "absolute madness" to allow so many people to bring their families to Germany: "Billions and billions of tax money are being swallowed and the social state is being steered toward breakdown while our eyes are wide open."
Neither the Federal Office for Migration and Refugees (BAMF) nor the Interior Ministry immediately responded to requests for comment on the report.
In 2016, the government decided to suspend family re-unifications for two years for migrants who get "subsidiary protection" – granted to people who are not considered as being persecuted individually but in whose home country there is war, torture or other inhumane treatment.
Syrians are the biggest group of asylum applicants in Germany. They are increasingly being granted subsidiary protection rather than refugee status and that means they are only granted the right of residence for a year, although this can be extended.
But Chancellor Angela Merkel's Christian Democrats (CDU), their Bavarian sister party – the Christian Social Union (CSU) – and the Social Democrats (SPD), their junior coalition partner, decided last week to make exceptions for people with subsidiary protection status in hardship cases.
More than a million migrants flocked to Germany in 2015 and 2016 but arrivals have dropped significantly. The AfD, which has made immigration one of its key rallying points, is currently on between 7 and 11 percent in opinion polls, above the 5 percent threshold to enter parliament.