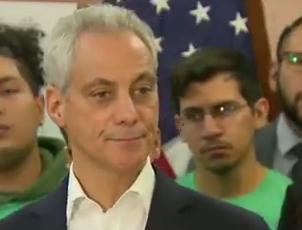 Democrat Mayor of Chicago, Rahm Emanuel, is rolling out identification cards, called 'City Keys', for illegal aliens residing in his city so they can feel comfortable to "drive their child to school, and all the benefits they have,
to be part of the city."  Chicago is mired in debt, the middle class is fleeing
and crime is increasing.  Tucker Carlson
says that all illegal aliens receive welfare and/or public assistance through taxpayer-funded schools, emergency treatment in hospitals, use of roads, tax benefits for children
and more.  The US allows over one-
million immigrants into the US every year.
Chicago Mayor Rahm Emanuel unveiled a new ID program he says is designed to welcome the "undocumented" community and people "on the sidelines" into the city.
The program will give a municipal "City Key" to anyone in Chicago. It is designed to give a person who doesn't have an ID or a driver's license essentially the same benefits as those who do.
"If you want somebody who's undocumented to feel comfortable to be able to drive their child to school and all the benefits, they have to be part of the city," Emanuel said.
Critics of the program say it might be a way for undocumented workers or people illegally in the U.S. to obtain a valid ID.
"Why would the city, in the middle of the various crises it's facing, take all this time and all this money to serve the needs of people who are in the country illegally over citizens?" Tucker Carlson asked immigration attorney Francisco Hernandez on his program tonight.
Hernandez said that illegal immigrants have risked their lives to get to the U.S., and this is a way for them to "sign the guestbook," get documented and join the community.
Carlson pointed out that many of the illegal immigrants who are working in the U.S. are doing so with fake Social Security cards and federal documents, which is a felony.