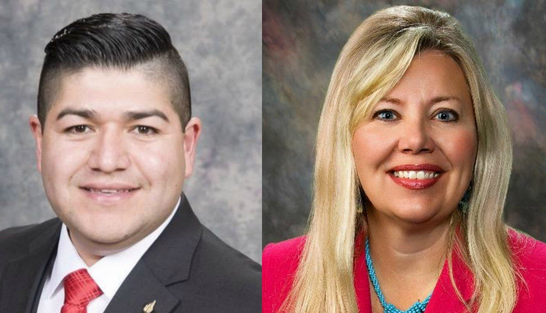 Arizona: Representative Jesus Rubalcava, a legislator and elementary school teacher, wrote on Facebook that he wanted to punch his colleague,  Debbie Lesko, in the throat, which is considered to be a death blow.  He was upset because she sponsored legislation giving citizens greater freedom to seek education outside government schools. Later he apologized and said: "My comment  was definitely unprofessional, and it was unacceptable." Note that he did not claim that he didn't mean what he said, only that, saying it in the legislature was unprofessional and unacceptable. –GEG  
A Democrat from Arizona claims he "wanted to punch" a female Republican Senator who sponsored a bill to give more school choice to families in the state.
Last Thursday, Senate Bill 1431 passed both chambers of the Arizona state legislature and was just waiting for Gov. Doug Ducey's signature. Democratic Rep. Rubalcava went to social media to show his outrage.
"I wanted to punch her in the throat," he wrote about his Republican colleague, in reply to a Facebook friend who said that Lesko was celebrating the bill she passed and that made her "slightly enraging."
His comments were public and captured by multiple people on social media. Twitter user called Populo Iratus shared the comment made by the Democratic Representative:
At first, Lesko told The Arizona Republic that wasn't aware of much about Rubalcava and ignored his comments. Later, however, she said: "The more time I've had to think of this Rubalcava comment, it is kind of disturbing. I don't know if the guy has violent tendencies, or what … The more I think about it, it is rather disturbing that someone would comment like that."
On Thursday, Lesko also released a statement in the newspaper that read: "As a survivor of domestic violence from a previous marriage, Representative Rubalcava's Facebook post saying 'I wanted to punch her in the throat' was very disturbing and totally inappropriate especially since he is an elementary school teacher and legislator. I hope in the future that he debates issues based on their merit in a civil manner."
The Democrat has since taken down the comment and apologized on the floor of the Arizona House of Representatives. He insisted that because he was raised by a single mom, he doesn't actually tolerate violence.
"And so, my comment, was definitely unprofessional, and it was unacceptable," he told his colleagues. "And I want this body to know that I have apologized to Sen. Debbie Lesko for my comment, and I sincerely apologize. I want this body to know."
He's also issued a similar apology on Twitter, writing: "I was raised in a household where violence was not tolerated; especially against woman. I apologize to @DebbieLesko for my FB post." His tweet, however, is no longer visible as he made his social media account private.