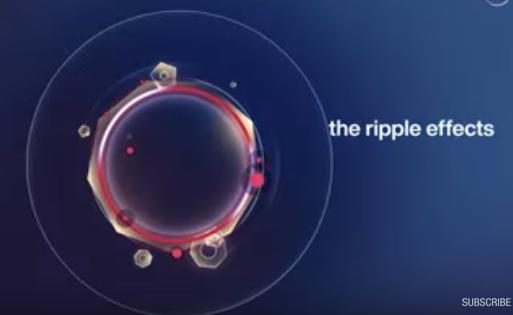 Cyber Polygon is a training simulation of what it would be like in the event of a massive and highly destructive attack on the digital grid that connects computers, satellites, databases, and control systems upon which all major functions of society depend. This simulation took place on July 9, 2021 and was sponsored by the World Economic Forum under the watchful eye of its founder, Klaus Schwab – and it was live streamed to the world. Many people were concerned because past simulations of large-scale disasters sometimes turned out to be rehearsals for a planned event – such as 9/11 and Covid-19.
As though on cue, to create heightened interest in the Polygon, a huge ransomware attack took place over Fourth of July weekend, just before the live stream, which can be watched, below. The video compares cyber threats to Covid-19, which was known as an "anticipated risk" and says that a cyber risk is the "digital equivalent". It is estimated that, if the internet is shut down for one day, it would cost economies $50-billion. In addition to the economic loss, the termination of essential services, such as health care and transportation, would cause great human hardship and premature death.
Approximately five-million people tuned in to the live stream. The simulation involved 120 teams from 29 countries. It "featured global leaders and experts, including Mikhail Mishustin, Prime Minister of the Russian Federation, and Klaus Schwab, Founder and Executive Chairman, World Economic Forum, as well as top officials from INTERPOL, ICANN, Visa, IBM, Sberbank, MTS and other organizations."
One of the end goals of Cyber Polygon was to determine how to do a more thorough job of silencing criticism that goes against the mainstream narrative. Closing down the Internet completely, except for governments and favored corporations, would be the policy of choice. -GEG
Cyber Polygon 2020 – a simulation about a "cyber pandemic" – took place July 9, 2021. Many Americans felt widespread concern prior to the event. 
Why is this? In short, because past simulations ended up becoming a reality. Could the Cyber Polygon simulation become a reality? Many Americans thought so. Derick Broze points out in his article that the world has experienced many simulations that came to fruition only a short time later.
For example, on October 18, 2019, the Bill and Melinda Gates Foundation, the World Economic Forum, and the John Hopkins Center for Health Security conducted Event 201. Event 201 was a simulation of how the world would react if a coronavirus pandemic swept across the planet. Less than six months later, the World Health Organization declared COVID-19 to be a pandemic.
Interestingly, just as Cyber Polygon was about to start, a real attack occurred. From NBC News:
One of the most prolific ransomware gangs, REvil, conducted its boldest attacks yet over the Fourth of July weekend, on Kaseya, which services customers who in turn contract with thousands of businesses. Though the dust has yet to settle, researchers say the hack allowed REvil to infect more than 1,500 different organizations. The gang seems to have bitten off more than it can chew and has asked for a $70 million lump sum to unlock all infected computers.
Cyber Polygon 2020 Digital Pandemic is Now Complete
Many may wonder just what in the world happened there. The convention was kind enough to publish the findings for the rest of us to peruse at our leisure.
As noted by the official website, "The central theme of the event was a 'digital pandemic.' No surprise to those of us who paid attention. It's because of this moniker that so many people have been concerned in the first place.
Videos published by the World Economic Forum set mental alarms off for Americans nationwide. According to this video, a cyber attack could be 10x more prevalent than what we've experienced with COVID-19. The narrator within the video states, "Fortunately, at least until now, cyber-attacks have not impacted our health the way pandemics have. At least until now."
The video goes on to state, "The only way to stop the exponential propagation of a COVID-like cyber threat is to fully disconnect the millions of vulnerable devices from one another and from the internet." 
How Would a Full Disconnect Be Implemented and What Would the Effects Be?
One possible way would involve the use of an internet kill switch. Not only do those exist, but the US government has access to one. Theoretically, if you can turn off the internet, large segments of the population will be disconnected from one another. Meaning, what happens in one geographic region will go utterly unrecognized by citizens everywhere else.
Think about the practical implications of such. Think about the potential for further human rights violations. Perhaps a world where all news sources disappear overnight, with your favorite collectivist news agency being the only website still on the air?