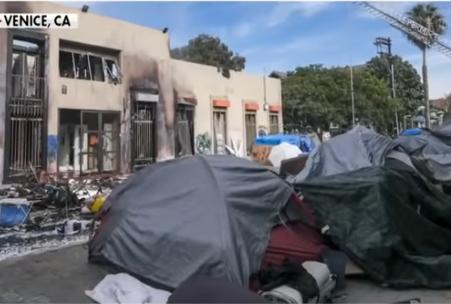 Last week, Los Angeles County Sheriff Alex Villanueva sent deputies to patrol along Venice Beach, aiming to connect homeless encampment residents with housing. He said that police have been hamstrung by politicians, specifically the Los Angeles County Board of Supervisors, the Mayor of Los Angeles, and the Los Angeles City Council, all of whom want the patrols to stop. Meanwhile, homicide has increased 186% since last year. Conditions at the famed Ocean-Front Walk stemming from the homeless encampments include shootings, fires, explosions, littering, drug use, harassment, and assault. Most of the homeless people are mentally ill and/or addicted to drugs and alcohol. The Sheriff said that the "homeless industrial complex" that includes the 501(c)3 so-called charitable organizations that receive money from the county and the city, the ACLU attorneys who represent special interests, and armies of social workers have failed to solve the problem –GEG.
A group of people clashed with Los Angeles County Sheriff Alex Villanueva on Thursday over a housing controversy for a veteran living in the encampment along Venice Beach.
On Tuesday, deputies with the Los Angeles County Sheriff's Department walked along the beach, aiming to connect encampment residents with housing options after Sheriff Villanueva decided to send deputies to Venice to help with the homeless crisis, despite the area being in LAPD's jurisdiction.
The only unhoused resident who accepted assistance on Tuesday was a veteran named Robert, who has a medical condition.
"He agreed to go to services. He expressed he had a medical problem and he wanted help with it. We offered to take him to the VA to assist with that issue. We ordered an ambulance but they had over an hour ETA to get here [to Venice Beach]," said Sgt. George Suarez from LASD.
Suarez said deputies transported Robert and some of his belongings to the VA in a government vehicle. He said Robert did not accept the housing offered by the VA.
"He was offered housing there at the VA. He refused. He wanted to be close to his friends [living in the Venice encampment] and be able to come have coffee. Robert was telling me, 'Unless you have beachfront property, I'm not gonna go,'" said Suarez.