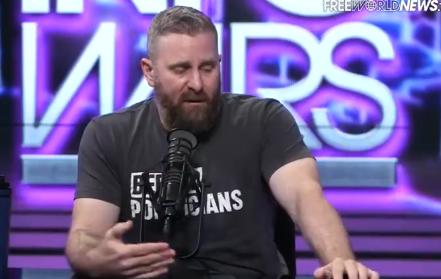 Joe Biden's liberal immigration policies that encourage child migration have created a surge at the border. Veteran and investigator Dan Hollaway found that the US government is transporting children across the US, and then they disappear. He said that inviting mass child migration is predatory and the only explanation is sexual exploitation. HHS currently has custody of 22,000 children. Six years ago, the Obama administration was caught placing tens of thousands of migrant children with traffickers and many became sex slaves. Cartels and smugglers are making half a billion dollars per month trafficking migrants.
Click on picture or this link for video:  https://www.newswars.com/special-investigation-bidens-illegal-smuggling-of-children-blown-wide-open/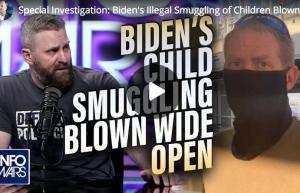 Summary by JW Williams
During the Democrat primary debates, then-candidate Joe Biden urged migrants to surge the US border if he was elected. Biden has caused a crisis at the border as he reversed former President Trump's immigration policies that stemmed the tide of migrants from El Salvador, Honduras and Guatemala. The Biden administration is encouraging children to cross the border. Six years ago, a Senate report showed that the Obama administration
was caught
placing tens of thousands of migrant children with traffickers, including child sex traffickers, and many of the children were used as sex slaves. This program appears to be continuing and growing. Currently, there are over 22,000 children in the custody of Health and Human Services.
.
Dan Hollaway, a veteran with a Masters degree in Homeland Security and host of the American Party Podcast, investigated the smuggling of children and revealed that the US Military and Customs and Border Patrol (CBP) are being used to put illegal aliens on corporate planes that take them into the interior of our country where they are then handed over to smugglers. Migrants who cross illegally into the US used to be given a court date and then released, but now there is no court date and the US is paying to transport them across the US.
.
Hollaway said that the government uses "cut-outs" that are businesses that act as a front for controversial groups that are given money by the government, which allows politicians plausible deniability if it is discovered. He said that the Biden administration is giving money to MVM, Inc., a government contractor, to transport migrant children. Often, the children are not placed with families, but placed in mass care facilities, then sent for COVID screening, and given to "anybody who will take them."  They are never seen again. Alex Jones said that the FBI was ordered by Biden to not do background checks on the people who collect the children. There is no record of where the children have been taken.
.
Most of the migrant children are not claimed by families, and Hollaway says they are likely used for sexual exploitation or forced labor, as there is no other explanation. The media is covering up the problem, so it is complicit.
.
Hollaway said this it is time for people to stand up against destruction of morals in the US.
.
Lawmakers from Tennessee became alarmed after Hollaway's report that the Biden administration has been flying unaccompanied minors into the state in the dead of night without the knowledge or permission of the communities where they are placed. At least four planes carrying children have landed at the Chattanooga airport, according to a local media outlet.
.
NY House member Nicole Malliotakis Mexican drug cartels and smugglers are making about half a billion dollars per month smuggling children and adults into the US at the border. She says the drug cartels are running the show.
.
Republican Senators Marsha Blackburn and Bill Hagerty, along with Republican Congressman Chuck Fleischmann, introduced the Migrant Resettlement Transparency Act, which would require the Secretary of Health and Human Services and the Secretary of Homeland Security to consult in advance with officials in jurisdictions affected by federally funded migrant resettlement. That would include speaking with governors and mayors.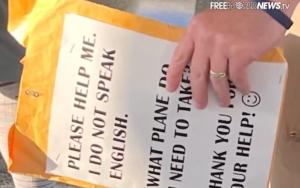 Sources:
InfoWars  video link on Bitchute: https://www.bitchute.com/video/RfndSxPl0K22/
Fox News:  https://www.foxnews.com/politics/biden-administration-migrant-children-tennessee
Washington Post:  https://www.washingtonpost.com/national/obama-administration-placed-children-with-human-traffickers-report-says/2016/01/28/39465050-c542-11e5-9693-933a4d31bcc8_story.html
Axios:   https://www.axios.com/migrant-children-hhs-sponsors-tracking-bdbaf7ba-02df-4d8d-92ba-2df2f200af55.html