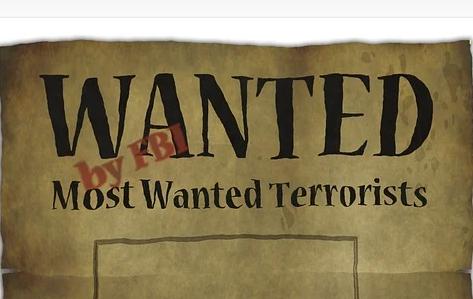 The corrupt FBI says it foiled a plot by six members of a militia to kidnap Michigan Democratic Governor Gretchen Whitmer at her vacation home and overthrow the state government. The FBI reported that the group talked about creating a society that followed the US Bill of Rights and where they could be self-sufficient.
In addition, Michigan's Attorney General announced that her office filed state charges against six militia conspirators who plotted to kill and/or kidnap Michigan Governor Gretchen Whitmer and seven more who were "linked' to the Wolverine Watchmen militia group that have been charged under Michigan's anti-terrorism law. Leftists blamed President Trump and white power for the plot, however, one of the ringleaders, Brandon Caserta, filmed himself in front of an anarchy flag and called Trump a "tyrant" indicating that the arrestees are anarchists, not Republicans.
UPDATE #1:  Defense attorneys for the guys accused of plotting to kidnap the governor of Michigan say "one of the most active leaders" was an FBI informant who "pushed" the rest of the group to engage in a "crackpot" scheme.
UPDATE #2:  One of the alleged plotters, Daniel Harris, a 23-year old former Marine, attended a Black Lives Matter rally eaarlier this year, indicating he is not a white supremacist.
Michigan Attorney General Dana Nessel held a press conference to announce state charges against the militia conspirators in a plot to kill and/or kidnap Michigan Gov. Gretchen Whitmer.
In addition to the six alleged militia members charged by the Feds earlier, another seven alleged members of the militia group, known as the "Wolverine Watchmen", were charged in the conspiracy and have all been taken into custody for purportedly trying to target law enforcement officials. That brings the total arrested to 13, according to the AP.
"The individuals in custody are suspected to have attempted to identify home addresses of law enforcement officers in order to target them, made threats of violence intended to instigate a civil war, and engaged in planning and training for an operation to attack the capitol building of Michigan, and to kidnap government officials, including the governor of Michigan," AG Nessel said.
The AG then explained that the charges are still subject to change once federal law enforcement officials review all the evidence collected during a raid of 24-year-old Ty Garbin's home in Hartland on Wednesday night.
On social media, leftists took things a step further, as they tried to connect the members of the Wolverine Watchmen to the Oklahoma City bombing carried out by alleged militia member Timothy McVeigh.
In this video, Judge Napolitano explains how the FBI has instigated, supplied, and controlled 17 of 20 terror plots over the last decade or so, and then take credit for preventing an attack. He goes on to explain how the remaining 3 were foiled by vigilant citizens.
Additional source:
https://www.thegatewaypundit.com/2020/10/gov-whitmer-media-caught-another-lie-anarchist-arrested-plot-kidnap-kill-whitmer-hates-president-trump-trump-tyrant-video/