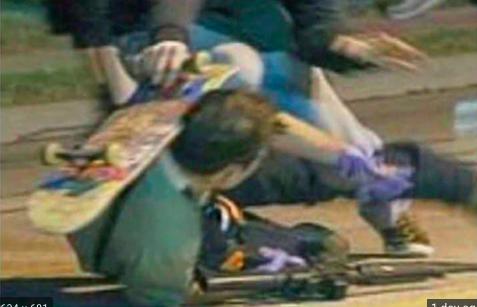 This event likely will test if Americans are allowed to defend themselves and their property or the property of others. A 17-year old boy from Illinois went to Kenosha to help police protect the city. Video appears to show that Rittenhouse was attacked by BLM and Antifa rioters and, in self defense, shot three of them, killing two. He has been charged with six crimes, including first-degree homicide. Prominent attorney Lin Wood has agreed to defend Kyle free of charge. -GEG
Kyle Rittenhouse, a 17-year old young man from Antioch, Illinois, traveled 21 miles and crossed the state line to Kenosha, Wisconsin to protect property amid the riots stemming from the police shooting of Jacob Blake. He had a rifle and a medical kit with him. He shot three white men who were BLM/ Antifa agitators, and two of them died. According to video and a journalist's witness account, Rittenhouse was chased down in a car lot by Joseph Rosenbaum, 36, who threw something at him. Rosenbaum has a criminal record that includes domestic abuse and a sex crime involving a minor. There is video of him before the shooting provoking armed militia to shoot him.
The mob heard the gunshots and chased Rittenhouse into the street when he stumbled. Another man, Anthony Huber, was filmed trying to bash him over the head with a skateboard. Rittenhouse shot and killed Huber, who also has a criminal history that includes charges of false imprisonment with a dangerous weapon and strangulation as domestic abuse. He also had been arrested for battery. A third man, Gaige Grosskreutz, chased after Rittenhouse with a pistol and Rittenhouse shot him at close range in the upper arm, which has been saved, according to reports. Grosskreutz also has a criminal record that includes felony burglary.
After the shootings, Rittenhouse ran toward police to give himself up. All of the shootings by Rittenhouse appear to be in self defense. Democrat Congresswoman Ayanna Pressley
tweeted
that Rittenhouse is a"white supremacist domestic terrorist" and Senator Chris Murphy called him a "deranged white nationalist Trump supporter."
Six charges have been file against Rittenhouse, including first-degree homicide and first-degree intentional homicide for defending himself against violent assailants with criminal records that attacked him. Attorney Lin Wood, the lawyer who won undisclosed settlements from CNN and Washington Post for smearing Covington Catholic kid Nick Sandmann, has offered to represent Kyle Rittenhouse for free after his GoFundMe page was shut down. Wood tweeted, "These charges must be dismissed as video clearly shows justified acts of self-defense. When dismissed, accusers should be held accountable & they should pay." He added: "If Kyle cannot defend himself under the circumstances shown in videos, we are all at risk." Americans' right of self defense is at stake.
Sources + more videos:
http://www.informationliberation.com/?id=61678
http://www.informationliberation.com/?id=61681
The 3 shot (2 killed) in #Kenosha, Wisc. at the BLM riot have been identified.

Joseph Rosenbaum, 36, was the first one killed. Video allegedly shows him chasing teen shooter & throwing something at him. Rosenbaum was a registered sex offender for a sex crime involving a minor. pic.twitter.com/up1VgDyrgZ

— Andy Ngô (@MrAndyNgo) August 27, 2020