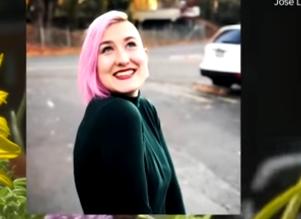 A Black Lives Matter protest to abolish the police took place on the Interstate 5 Freeway, for the 19th day in a row. At 1:30 in the morning, the protesters parked vans on the road to block vehicles. The driver's vision was obscured as the road was curved, the parked vans blocked his field of vision, and the protesters wore dark clothing. He struck two female protesters, Summer Taylor, 24, and Diaz Love, 32, who were standing in the road. Summer Taylor died at the hospital and Love is in the intensive care unit. The driver of the Jaguar, Dawit Kelete, fled the scene, but another protester chased him down. Kelete was taken into custody and bail was denied. Trooper Rick Johnson said the Kelete went through a barrier that closed the freeway.
The Washington State Patrol said Saturday evening that going forward it won't allow protesters to enter I-5 and would arrest pedestrians on the freeway.

A protester was seen attacking the driver after the incident:
This is the vehicle that ran over 2 peacefull protesters on mother bound I-5. White jaguar, Washington plates BPA6961 #seattleprotest #CHOP pic.twitter.com/PkUJnzzuzR

— Fedtuedeed (@fedtuedeed) July 4, 2020

From King 5:

Two protesters were hit by a car on I-5 in downtown Seattle around 1:30 am Saturday.

The Seattle Fire tweeted out that medics transported two females, estimated to be in their 20s, to Harborview from the scene.

Fire officials said one patient is in critical condition and the other is in stable condition.
"Investigation into motive and point of entry in to I-5 are still under investigation," Highway State Patrol trooper Rick Johnson said Saturday morning after confirming the driver was taken into custody.

Blocking traffic at night around a curved road while wearing mostly dark clothing is a terrible idea.
The media is no doubt waiting to learn the race and political ideology of the driver before deciding whether to blow this up into a big story.
UPDATE: Someone ran the Jaguar's plates and found the owner is a 27-year-old black man. Police said the driver is a 27-year-old which suggests it could be the same person but I'm holding off on identifying them until it's confirmed.
UPDATE II: Police confirmed the driver is 27-year-old Dawit Kelete.
Additional source:
https://www.breitbart.com/news/woman-dies-after-she-was-hit-by-car-on-highway-amid-protest/