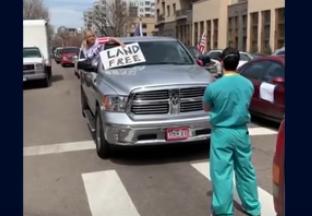 Denver: Two people dressed as nurses jumped in front of a car at a freedom protest against the shutdown and photographers snapped pics that appeared to be staged as the 'nurses' then left the protests. The photos were used to criticize the pro-freedom demonstrators on social media.
A face off in Colorado between those protesting the state's stay-at-home order and those supporting health-care workers was trending on social media
Video footage and photographs of two people dressed like health-care workers standing in front of lockdown protesters in Denver were drawing comparisons with the iconic 1989 "Tank Man" photo in Tiananmen Square.
Scott Dworkin

✔ @funder


Two nurses stage a counter protest
34K people are talking about this
Hundreds of people (many notably not standing the social-distancing recommended 6 feet apart) staged a peaceful "Operation Gridlock" protest in Colorado on Sunday to condemn the statewide stay-at-home orders to enforce social-distancing measures during the COVID-19 pandemic. Protesters in vehicles lined up for several blocks around the state's Capitol building, waving U.S. flags and signs such as "End the Virus, Not the Economy," "Unemployment takes lives, too" and "Freedom Over Fear," the Denver Post reported.
It followed a similar demonstration in Michigan last week, which President Donald Trump supported by tweeting "LIBERATE VIRGINIA" and "LIBERATE MICHIGAN."
But at least two people counter-protested in Denver on Sunday, identifying themselves as health-care workers to local media and wearing scrubs and N95 masks, and standing in the middle of the street. This created some striking scenes — as well as a viral video being widely shared across social-media platforms, including Reddit, Twitter TWTR, -2.03%, Facebook and Instagram FB, +1.56%, that shows a woman waving a "Land of the Free" sign chanting: "Go to China if you want communism! Go to China!"
Additional source: Gateway Pundit
BUSTED: Media Caught on Camera Staging Fake Photos of Medical Worker Counter Protest (VIDEO)