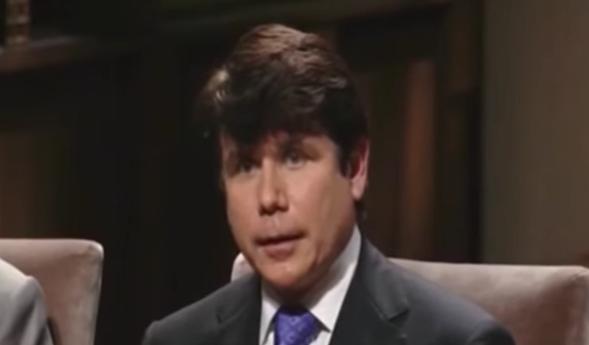 President Trump commuted the sentence of impeached former Illinois Governor Rod Blagojevich and pardoned former New York Police Commissioner Bernie Kerik and financier Michael Milken, among others.
Blagojevich was sentenced to 14 years in prison for trying to sell the US Senate seat vacated by former Senator Obama when he was elected president in 2008. In December 2008, Governor Blagojevich tried to save 200 workers' jobs at a window-and-door factory that was in financial trouble, and he threatened the Bank of America with blocking future business with the state of Illinois unless the lender stepped up its assistance to the company. He criticized the bank for receiving $25-billion in taxpayer bailout money and said: "the purpose of that money was supposed to be to provide a line of credit to businesses like this, to keep workers working, and keep people employed."
President Donald Trump commuted the jail sentence for former Illinois Gov. Rod Blagojevich (D) on Tuesday, Trump confirmed to reporters.
"I watched his wife on television; I don't know him very well," Trump said, acknowledging that the former governor appeared on his show Celebrity Apprentice. "Seemed like a very nice person, don't know him. … I did commute his sentence."
Blagojevich was sentenced to 14 years in prison after he tried to sell the U.S. Senate seat vacated by former Sen. Barack Obama after he was elected president in 2008. To date, Blagojevich has served over seven years of his prison sentence.
Trump said that Blagojevich was prosecuted by "the same people, Comey, Fitzpatrick, the same group" that prosecuted him, and acknowledged that even though the governor was a Democrat, he deserved release from prison.
"Very far from his children, they're growing older. They're going to high school now. They rarely get to see their father outside of an orange uniform," Trump said. "I saw that, and I did commute his sentence."
The president has frequently discussed the idea of a pardon for Blagojevich, as he views the 14-year penalty as too harsh just for "being stupid" by discussing something that "many other politicians say."
The Illinois state legislature impeached Blagojevich and removed him from office in 2009, which led him to appear on Celebrity Apprentice.
Additional source: