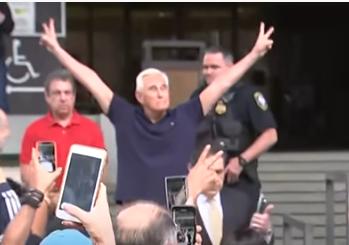 Roger Stone, former adviser to President Trump, was found guilty in November 2019 on seven counts related to attempts to obtain emails that would be harmful to Hillary Clinton's 2016 bid for the White House. Four career DOJ prosecutors, including Obama holdovers from former Special Counsel Robert Mueller's team, recommended that Stone be sentenced to seven to nine years in prison. However, senior officers at the Department of Justice reduced that recommendation, which caused all four prosecutors to resigned in protest. When Trump tweeted that the original sentencing recommendation was "very horrible and unfair", Democrats responded by accusing the president of wielded undue influence over the DOJ in this case. -GEG
Four career Department of Justice (DOJ) prosecutors abruptly withdrew from their posts on Tuesday in an apparent dramatic protest just hours after senior leaders at the DOJ said they would take the extraordinary step of effectively overruling the prosecutors' judgment by seeking a lesser sentence for President Trump's former adviser Roger Stone.
Fox News reported earlier Tuesday that top brass at the DOJ were "shocked" that prosecutors handling the case had recommended Monday night that Judge Amy Berman Jackson sentence the 67-year-old Stone to between 87 and 108 months in prison. The prosecutors asserted in the Monday filing that Stone's conduct post-indictment — including violating the judge's social media gag orders — merited a sentence much longer than the 15 to 21 months that the defense said was actually advisable under the federal sentencing guidelines.
In a new, amended filing Tuesday afternoon, the DOJ told Jackson that the government "respectfully submits that a sentence of incarceration far less than 87 to 108 months' imprisonment would be reasonable under the circumstances," but that the government "ultimately defers to the Court as to the specific sentence to be imposed."
FLASHBACK: FORMER FBI DIRECTOR MCCABE ADMITS LYING TO INVESTIGATORS, STILL NO CHARGES
The government said in the amended filing that while it was "technically" possible to argue that Stone deserved the severe federal sentencing enhancement for threatening physical harm to a witness, such a move would violate the spirit of the federal guidelines.
It would place Stone in a category of the guidelines that "typically applies in cases involving violent offenses, such as armed robbery, not obstruction cases," the government argued, noting that Stone's "advanced age, health, personal circumstances, and lack of criminal history" also counseled against the harsh penalty.
Specifically, prosecutors said that although Stone had allegedly threatened witness Randy Credico's therapy dog, Bianca — saying he was "going to take that dog away from you" — it was important to recognize that Credico, a New York radio host, has acknowledged that he "never in any way felt that Stone himself posed a direct physical threat to me or my dog."
"If the Court were not to apply the eight-level enhancement for threatening a witness with physical injury, it would result in the defendant receiving an advisory Guidelines range of 37 to 46 months, which as explained below is more in line with the typical sentences imposed in obstruction cases," the government wrote.
READ THE DOJ'S NEW FILING ; READ THE ORIGINAL FILING REQUESTING A LONGER SENTENCE
A senior DOJ official confirmed to Fox News that senior leadership officials there made the call to reverse the initial sentencing recommendation, saying the filing on Monday evening was not only extreme, but also substantially inconsistent with how the prosecutors had briefed DOJ leadership they would proceed on the case. The "general communication" between the U.S. Attorney's Office and the main DOJ had led senior officials to expect a more moderate sentence, the official told Fox News.
In response to the new push for a lighter sentence, all the prosecutors on the Stone case, including several holdovers from former Special Counsel Robert Mueller's team, quit. Assistant U.S. Attorney in the U.S. Attorney's Office for Washington, D.C., Jonathan Kravis, resigned as an assistant U.S. attorney in a filing with Jackson. Another prosecutor, Aaron Zelinsky, also filed a notice with the court that he was leaving his position as a special prosecutor with the U.S. attorney's office in Washington, although he would remain as an assistant U.S. attorney in Baltimore.