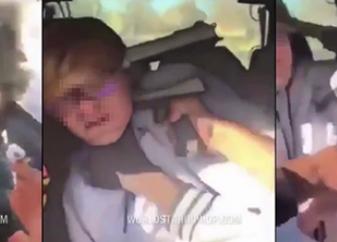 Marion County, Kansas: Four high school teens filmed themselves on Halloween shoving multiple guns into the face of a young white teen, assaulting him, shouting racial slurs, and robbing him. The suspects themselves shared the video on social media — all four have been arrested and charged with aggravated robbery. Another robbery by the armed group was also reported on the same day. The mainstream media is ignoring this story.
Four high schoolers in Olathe, Kansas on Halloween filmed themselves shoving guns into a young white teen's face and robbing him while shouting racial slurs before sharing the video on Snapchat.
Two such robberies were allegedly carried out on the same day.
From the Kansas City Star:
"Four Olathe high school students have been charged with aggravated robbery relating to armed robberies on Halloween, one of which was recorded on video and spread on social media.
Olathe police on Monday confirmed that the video being shared on social media was related to the robberies. Police added that all the teenage suspects have been taken into custody.
The Johnson County District Attorney has charged the four defendants, all Olathe residents, in juvenile court, each with two felony counts of aggravated robbery"