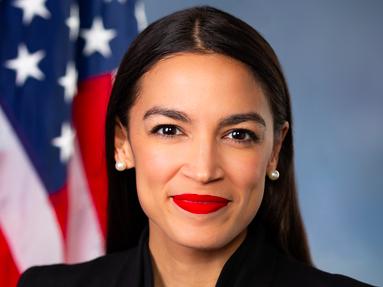 US Congresswoman Alexandria Ocasio-Cortez tweeted out support for protestors in Brooklyn, without denouncing the activists' calls for violence against law enforcement.
Last Friday, an estimated 1000 people protested against the NYPD, with some calling for punching cops and worse, following two incidents on the Brooklyn subway. In the first case of alleged brutality, an officer was breaking up a violent brawl between groups of teens, and punched Benjamin Marshall, 15, in the face. Marshall faces assault charges for striking the officer. Marshall is now suing the NYPD for $5 million. In a separate incident, Adrian Napier, an unarmed man who was suspected of having a gun, was pulled to the ground and arrested for jumping a turnstile and evading the $2.75 fare. The protests took place against the backdrop of an unpopular new campaign to enforce the payment of fares, using 500 new police to patrol the subways.
A large demonstration, numbering around 1,000 people, marched through downtown Brooklyn Friday evening to protest alleged police brutality in the subway system. Protesters chanted familiar slogans such as "No justice, no peace/Fuck these racist police," and the message was intensified by calls for violence. Choruses of "punch a cop in the face/every nation, every race," were echoed by large banners reading, "Ante Up! Punch that cop!" Vehicles were tagged "NYPD KKK," and eggs and garbage were thrown at a police cruiser.
The "#FTP" (fuck the police) action was inspired by two recent incidents where police made arrests on subway platforms. In one case, an early-morning melee spilled underground, and cops were filmed using force to break up the fighting and subdue people resisting arrest; one teenager shoved a cop and was punched in the face; he's suing the city for $5 million. In another instance, a group of police swarmed Adrian Napier, whom they believed was carrying a gun; they found no weapon but arrested him for jumping the turnstile. The incident, captured on video, received national attention. "Officers should be working to deescalate," former HUD secretary Julian Castro commented, "not putting dozens of lives at risk over $2.75." But Napier was apprehended after fleeing the police and escaping into the subway; his arrest was not precipitated by jumping a turnstile.
These incidents took place in the context of a campaign against fare evasion, which has accelerated dramatically following the announcement that local prosecutors would no longer pursue "theft of service" charges against arrestees. Arrests for turnstile-jumping are down about 40 percent since last year. The NYPD now largely writes tickets for the violation, reserving arrest for serial evaders.
Part of last Friday's protest included a mass refusal to pay subway fares, with scores of people clambering over the turnstiles in reaction against what advocates call the "criminalization of poverty"—or enforcement of fare collection. Congresswoman Alexandria Ocasio-Cortez tweeted her support, explaining, "ending mass incarceration means challenging a system that jails the poor to free the rich. Arresting people who can't afford a $2.75 fare makes no one safer and destabilizes our community."
But almost nobody goes to jail for fare evasion, as Ocasio-Cortez surely knows. The Mayor's Office for Criminal Justice reports 32 jail admissions for fare evasion in the first three months of 2019, though on any given day roughly two people get incarcerated for the crime. Over that same period, 992 people got arrested for fare evasion, and another 18,000 received summonses for theft of service. A miniscule fraction—about 0.2 percent—of people stopped and charged with jumping turnstiles wound up in jail, likely repeat offenders.