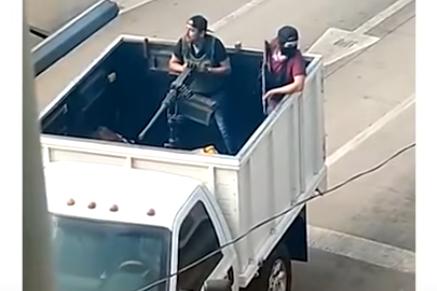 Mexican police arrested Ovidio Guzmán López, the son of Joaquin Guzman, aka El Chapo, and the Sinaloa drug cartel regained custody of the young man. Video shows trucks with mounted machine guns and rocket-powered grenades turning the streets of Culiacán into a war zone. The Mexican police released El Chapo's son after eight law enforcement members were taken hostage. Some officers' families were also reportedly kidnapped by the Sinaloa gang. Seven people have been killed and more than a dozen people were injured.

Scammers are now trying to capitalize off of the fear of violence by bombarding area residents with threatening emails demanding cash to stave off more violence.
After being captured by Mexican forces, the Sinaloa cartel managed to wrest El Chappo's son free from government control with a stunning show of force complete with machine guns and rocket launchers.
The events unfolded in the city of Culiacán on Thursday after troops captured the son of jailed drug lord Joaquín Guzmán Loera, known as El Chapo. His son, Ovidio Guzmán Lopez, is one of many of the notorious kingpin's children who live in the area. Another one of El Chapo's sons called up cartel members to begin a siege on Culiacán, according to the New York Times.
Trucks with large mounted machine guns were spotted, as were videos showing rocket launchers and rocket-powered grenades. Many civilians in the city were able to capture the staccato of gunfire during the prolonged battle, which ended in the deaths of at least seven and injured more than a dozen.
The Mexican forces who arrested the younger Guzmán released him after eight of their members were taken hostage. Part of the effort by the cartel to get Guzmán released reportedly included not only taking armed forces hostage, but also kidnapping their families.
Given that they were surrounded, the violence was continuing to rise, and there were hostages, the government surrendered and let Guzmán go.
Additional source:
https://nypost.com/2019/10/20/scammers-trying-to-cash-in-on-notoriety-of-el-chapos-son/