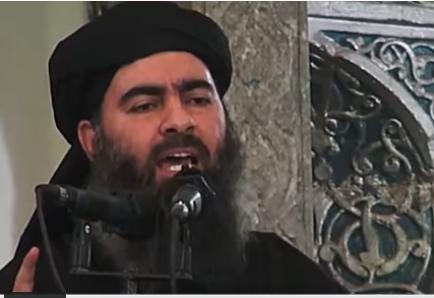 The media and Democrats heavily criticized President Trump for allegedly approving the killing of Abu Bakr al-Baghdadi. Some even said that this only reinforces their murderous ideology. Russia's defense ministry says it has no reliable information about US servicemen conducting an operation for 'yet another' elimination of the former ISIS leader, referring to three previous instances where international media reported Baghdadi's death. The US military gave Baghdadi a burial at sea, making it impossible to prove that he was executed. It seems that reporting the killing of hated enemies is useful to build popularity among the folks back home. -GEG
The media and Democrats' hysterical reactions to President Trump allegedly killing Abu Bakr al-Baghdadi makes me think Baghdadi might actually be dead.

Just like with Obama Bin Laden, Abu Bakr al-Baghdadi is one of those "Emmanuel Goldstein"-type figures who has been "killed" multiple times but always seems to come back to life when a boogeyman is needed to justify keeping our forever wars going.

This case could be quite different if Baghdadi's killing is used as a reason for Trump to pull our troops out of Syria.

From Infowars:

Some pundits lamented that killing ISIS members only reinforces their murderous ideology.
Additional sources:
https://www.zerohedge.com/geopolitical/no-proof-russia-dismisses-trumps-baghdadi-victory-lap-propaganda
http://www.informationliberation.com/?id=60871