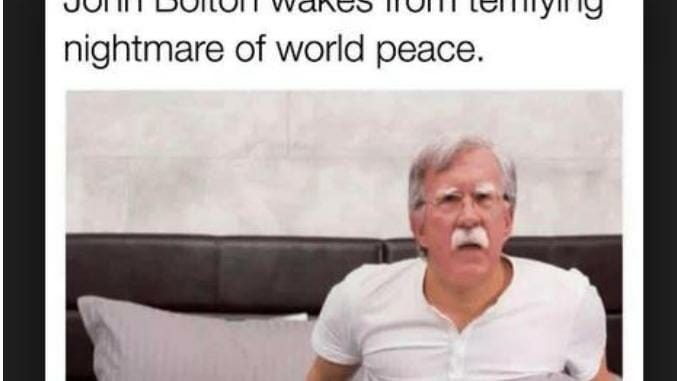 John Bolton resigned, upsetting war hawks from both parties. According to the New York Times, Bolton sabotaged a peace deal with the Taliban, which led to his dismissal. Israeli Prime Minister Benjamin Netanyahu gave a speech announcing his plans to annex a third of the West Bank if he wins the Israeli election next week. He was hoping Trump would sign off on the land expropriation, but it never came. Instead, Pompeo announced that Trump wants to meet Iranian president Rouhani with "no preconditions." -GEG
Ilooks as though President Trump may be trying to free himself from the grasp of the neocon cabal that surrounds him.

On Tuesday, Trump announced on Twitter he was firing John Bolton:
 

….I asked John for his resignation, which was given to me this morning. I thank John very much for his service. I will be naming a new National Security Advisor next week.
33.4K people are talking about this

Bolton claimed he planned to resign.