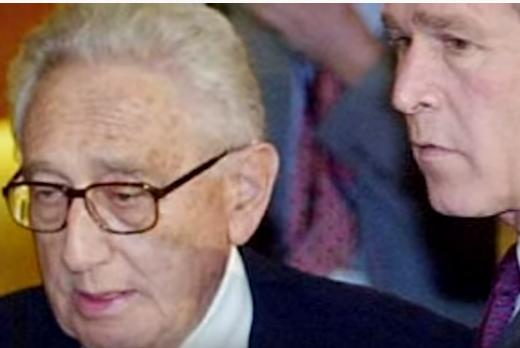 George W. Bush dragged his feet 441 days before finally establishing the 9/11 Commission. He originally appointed Henry Kissinger until he was challenged by the families of 9/11 victims to provide the client list to his political consulting business. The Commission's final report is still held up as the final word on the events of September 11, 2001. But there's just one problem: Six out of the 10 commissioners have admitted that the commission was misled, stymied, hampered by conflicts of interest, and, ultimately, forced to participate in a politically-motivated cover-up.
TRANSCRIPT
Of all the 9/11 whistleblowers, perhaps the most noteworthy are the 9/11 Commissioners themselves.
The 9/11 Commission (formally "The National Commission on Terrorist Attacks Upon the United States") was set up by President George W. Bush, who dragged his heels a full 441 days before finally establishing a body to investigate the events of September 11, 2001, and "to prepare a full and complete account of the circumstances surrounding" them. But that remarkable gap between the events and the empaneling of the Commission was not due to mere laziness; Bush actively resisted any investigation for as long as he could, taking the extraordinary and unprecedented step of personally asking Senate Majority Leader Tom Daschle to limit Congress' investigation into those events.
It was only when the political pressure to form a commission of inquiry became too great for Bush to resist that he authorized the commission and nominated a chairman: Henry Kissinger.
PRESIDENT BUSH: Today I'm pleased to announce my choice for commission chairman: Dr. Henry Kissinger.

REPORTER: Dr. Kissinger, do you have any concerns about once the commission begins it work and fingers point to valuable allies—say, Saudi Arabia for example—what policy implications could this have for the United States, particularly at this delicate time?

HENRY KISSINGER: I have been given every assurance by the President that we should go where the facts lead us.
Kissinger's reputation as a cover-up artist and tool of the political establishment was such that even The New York Times speculated that Bush's nomination of him showed that the president wanted to contain the investigation into 9/11, not enable it. 9/11 victims' family members, similarly concerned that Kissinger was being appointed to run a cover-up commission, challenged him to his face to release the client list of his political consulting business.
NARRATOR: Several family members approached Kissinger and requested a meeting at his office in New York. Prior to the meeting, Kristen Breitweiser conducted a thorough investigation of Kissinger's potential conflicts of interest.

PATTY CASAZZA: Probably much to the chagrin of some of the people in the room, Lorie (Van Auken) asked some very pointed questions. "Would you have any Saudi-American clients that you would like to tell us about?" And he was very uncomfortable, kind of twisting and turning on the couch. And then she asked "whether he had any clients by the name of Bin-Laden." And he just about fell off his couch.

NEWS REPORTER: Former Secretary of State Henry Kissinger stepped down from the position Friday.

MINDY KLEINBERG: We thought the meeting went well.

SOURCE: 9/11: Press For Truth
The next morning, Kissinger resigned his post as head of the 9/11 Commission and former New Jersey Governor Thomas Kean and former Indiana Congressman Lee Hamilton were appointed chairman and vice-chairman, respectively, to take his place.
Remarkably, the suggestions of political cover-up did not end there, nor were they confined to a marginalized "lunatic fringe" of "conspiracy theorists" derided by the establishment media. The remarkable and almost completely unreported fact is that six out of the 10 commissioners—Kean and Hamilton, as well as Bob Kerrey, Tim Roemer, John Lehman and Max Cleland—have all expressed concern that the Commission was misled, stymied, hampered by conflicts of interest, and, ultimately, forced to participate in a politically motivated cover-up.
In their book, Without Precedent: The Inside Story of the 9/11 Commission, and in press conferences and interviews at the time the report was released, Kean and Hamilton famously remarked that the commission had been "set up to fail."