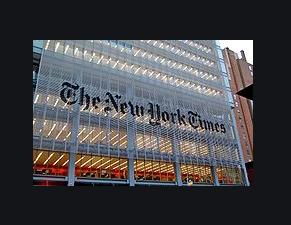 Last week, Breitbart broke a story about 'hate speech' by a New York Times journalist. This was in response to the Times previously announcing it intends to target President Trump on racial-bias issues. This is further evidence that the Times follows a double standard, but that is not big news, because most people already know that. The embarrassment to the Times, however, is noteworthy. -GEG
The New York Times is trying especially hard this week to play the victim after it discovered pro-Trump operatives have been digging through its employees' public statements.
Fortunately, the Times' peers in the press are not indulging the newspaper in its pity party.
"[O]f all the thin-skinned beasts prowling the journalistic forest, few have a thinner epidermis than the boys and girls who work at the New York Times," said Politico's Jack Shafer in an article titled, "Why Journalists' Old Tweets Are Fair Game for Trump."
Elsewhere, the Washington Post's Eric Wemple penned an analysis, titled "Breitbart burned the New York Times. And the Times really doesn't like it," accusing the newspaper of wanting to "tar the motivations" of the operatives while also refusing to admit "they have brought actionable information to public attention."
The thrust of the Shafer and Wemple's analyses is this: It is not dirty pool for pro-Trump operatives to spelunk through newsroom employees' public remarks. It is not unfair for political operatives to document carefully the past statement of journalists and editors in the employ of the nation's largest and most powerful newsrooms. It most certainly is not an "assault" or an "attack" on the free press or democracy itself, as New York Times publisher A.G. Sulzberger claimed this weekend in a memo to staff.
The White House has paired with activists to embarrass hostile newsrooms, which Sulzberger claims is "an escalation of an ongoing campaign against the free press."
Additional sources:
https://www.breitbart.com/politics/2019/08/22/exclusive-crappy-jew-year-new-york-times-editors-antisemitism-racism-exposed/