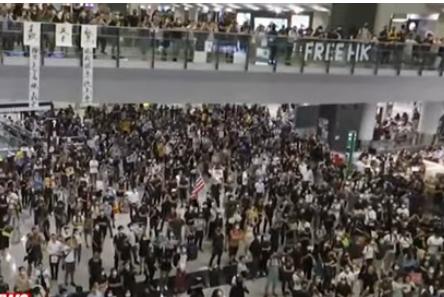 President Trump tweeted that the Chinese Government is moving troops to the Border with Hong Kong in the tenth week of protests against mainland China's extradition bill. Hong Kong police stormed Hong Kong International Airport to clear all protesters from the premises, using tear gas and pepper spray. Officials in Beijing refused two US Navy ships permission to make port stops in Hong Kong in the coming weeks, after repeatedly warning the US to stop interfering with Taiwan and Hong Kong, or face consequences.
RT, a website funded by the government of Russia, an ally of China, says the Hong Kong protests are orchestrated by the United States. RT claims the protests are similar to the 2014 protests in Ukraine, funded and directed by the US, that overthrew the government. [This story overlooks the role played by anti-Communists in Hong Kong and in China itself – such as Falun Gong – who are in the forefront of these protests. It is a large and genuine movement even if the US is playing a hidden role to support it. -GEG
Update (1325ET): While we have seen numerous clips on social media of troop build-ups over the past few days, President Trump has just tweeted confirmation:
Our Intelligence has informed us that the Chinese Government is moving troops to the Border with Hong Kong. Everyone should be calm and safe!
Additionally, seeming to address the rumors of US involvement, he tweeted this just before…
Many are blaming me, and the United States, for the problems going on in Hong Kong. I can't imagine why?
Update 6: The Chinese government once again condemned the protesters on Tuesday, accusing them of acts of terrorism, rhetoric they've employed against the protesters for days now. Meanwhile, President Trump said he hopes 'nobody gets killed' during the protests in Hong Kong.
Police have reportedly left the airport as the protesters have taken yet another man suspected of being an undercover officer from the mainland hostage. Though this man was eventually evacuated and treated by paramedics. Hu Xijin, editor-in-chief of the Communist Party-friendly Global Times, insisted the man was simply reporting on the riots when he was captured. 

Read full article here…
Additional sources:
https://www.zerohedge.com/news/2019-08-13/beijing-refuses-american-warships-entry-hong-kong-ports
https://www.rt.com/news/466349-hong-kong-color-revolution/