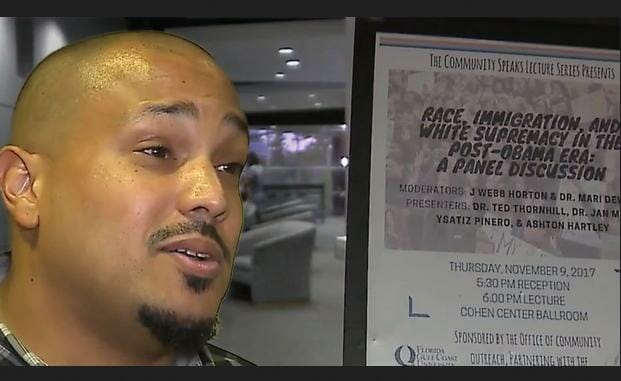 Starting in January, Sociology Professor Ted Thornhill will teach a course at Florida Gulf Coast University titled 'White Racism', Thornhill defends his course ​​theme by saying: "A​ll people racialized as white derive, in some measure, material and psychological benefits by virtue of being racialized as white." He claims that this equates to discrimination and handicaps against other races and, therefore, should be socially condemned and legally reversed.  Sociology P​rofessor, Noël Cazenave, ​who teaches a 'White Racism' course at the University of Connecticut, argues that the name can't be offensive because 'the concept of race is bogus, so there are no white people to offend'. [We can't help but wonder: how can these tax-supported Marxists talk about white racism if there are no white people? Or how can racism of any kind be condemned if the concept of race is bogus in the first place? But don't worry about those little brain games, because none of it makes sense anyway, and is not intended to. We must understand that the real goal of Marxist recruiters ​is not to combat racial hatred but to create it. Why? Because the fastest way to destroy Western culture and convert it to the collectivist bee hive advocated by Marx and Lenin is to create hatred and division among all cross-sections of society​: religion, gender, wealth, and race​. Everything they do, although in the name of combating racial injustice, is merely agitation to cause blacks to hate whites and whites to hate blacks. Lenin said that, to make an omelette, you have to break some eggs. The Fabian Socialists of England said that, the first step for building a new socialist world is to smash the old one. Once you understand the strategies of these Communists (Nazis advocated the same thing), then you will understand that race war is what they really want, and everything they do under the banner of 'race studies'​ is designed to further that objective. It is time to push back against this attempt to divide-and-conquer us. It is time to unite in common cause against the greatest discriminator, hater, and destroyer of all time​, which is an ideology with many names: Communism, Fascism, Naziism, Socialism, Progressivism, Neoconservatism, Left Wing, Right Wing, Technocracy, – the list is endless, but the generic word for all of these is Collectivism. All others are merely variants of that. Collectivism is our common enemy regardless of nationality, religion, gender, economic status, life style, or race. Let us unite as one race, the Human Race.  A
good place to begin is at the Red Pill University.] -GEG
White Racism course sparks controversy at Florida Gulf Coast University
Florida Gulf Coast University will offer the course starting in January 2018
Name has sparked some concern that it is targeting white students for scorn 
Professor Ted Thornhill says course 'is not anti-white, it is anti-white racism'
A new course titled White Racism has sparked controversy and debate at a Florida University.
Sociology professor Ted Thornhill will teach the course at Florida Gulf Coast University starting in January, and has defended its premise against critics who say it targets white students.
'Much evidence, both historical and sociological, shows the U.S. has been and remains a white supremacist society,' Thornhill said in a statement regarding the course.
'That is, a racially stratified society where whiteness is more highly valued and therefore associated with greater life chances.'
Thornhill said the course would cover scholarship documenting that state of affairs.
'My White Racism course is not anti-white; it is anti-white racism. Clearly, not all white people are racists; some are even anti-racist,' he said.
'However, all people racialized as white derive, in some measure, material and psychological benefits by virtue of being racialized as white.'
Though many students came forward to praise Thornhill as a professor, some were uneasy with the title of the course.