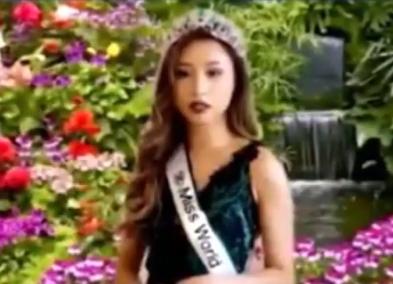 Kathy Zhu, the 20-year-old vice president of the College Republicans at the University of Michigan, says that officials of the Miss World America beauty pageant stripped her state title and barred her from national competition because of social media posts that they claimed were racist, Islamophobic, and insensitive. She was never given a chance to explain her comments which she says were taken out of context. -GEG
A College Republican leader at the University of Michigan is blasting Miss World America beauty pageant officials for stripping her state title and barring her from a national competition because of provocative social media posts that spurred accusations of racism, Islamophobia and insensitivity.
Kathy Zhu, a 20-year-old senior at the University of Michigan, says she was barred from a beauty pageant over "insensitive" tweets. (Photo: Courtesy Photo)
Kathy Zhu, the 20-year-old vice president of UM College Republicans, said organizers took her 2017 and 2018 tweets about Muslim hijabs and African-American murder rates out of context and did not give her a chance to explain her rationale.
The controversy exploded Thursday on conservative media sites after Zhu posted emails and text messages from a pageant official who told her she could no longer participate because of "offensive, insensitive and inappropriate" social media posts.
"I'm more than happy a light got shined on it," Zhu said in a Friday interview with The Detroit News. "For me, it wasn't a big deal I got stripped of the title, it was more of how unfair it was for the whole process to have taken place. I don't want this to happen to anyone else."
The beauty pageant this week announced Zhu as Miss Michigan World America 2019 but revoked the title a day later. Organizers appear to have deleted the original announcement from a regional Facebook page and reposted a list of other winners from Michigan and Indiana.
A senior majoring in political science, Zhu expects to graduate next year. She describes herself as a "right-leading moderate" and supports Republican President Donald Trump.
"This is more than just some beauty pageant, this is about the prejudice views against people with 'different opinions,'" she wrote Friday morning on Twitter.