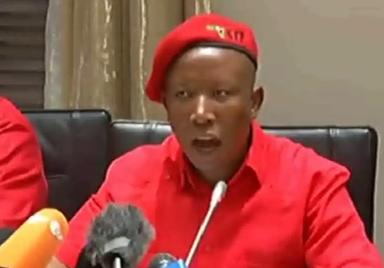 Julius Malema, the leader of the Marxist-Revolutionary Economic Freedom Fighters party led the charge to change the country's constitution so land owned by whites may be expropriated without compensation. The ruling majority party, the Marxist ANC, also called for the taking of farmland from whites. Most blacks have accepted Marxism and want revenge on whites, who they have been told are the last vestiges of evil capitalism. Whites comprise about 8% of the total population of an estimated 60 million people. Malema told his followers to "go after a white man" in the name of "cutting the throat of whiteness." -GEG
Just as the legacy of Jim Crow, the evil inflicted upon South African blacks during apartheid was an atrocity. That does not mean, however, that evil should be inflicted upon innocent whites far removed from those horrific times.
The reconciliation that former South African President Nelson Mandela hoped to achieve in the 1990s has been all-but-jettisoned. As of last week, the South African parliament voted to seize all land from white farmers without compensation, a motion largely prompted by the hateful Julius Malema, leader of the Marxist-Revolutionary Economic Freedom Party.
Since parliament passed the initiative, Malema, who has a rap-sheet of racist rhetoric, has been turning the anti-white hate speech up to dangerous levels. Just recently, he told crowds of followers to "go after a white man" in the name of "cutting the throat of whiteness."