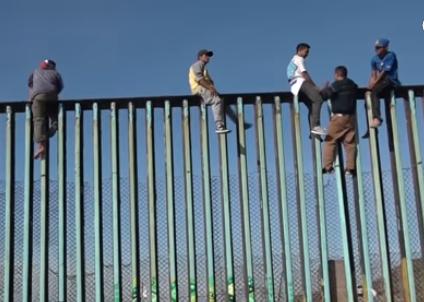 Tijuana, Mexico: Over 100 illegals from Central America were repelled by tear gas from US Customs and Border Patrol (CBP) agents when the migrants became violent and began throwing rocks at the officers on New Year's Eve. Border Patrol reported: "Approximately 150 migrants attempted to illegally enter the United States by climbing over and crawling under the border fence in San Diego Sector. Due to CBP's increased presence, a first group of 45 turned back towards Mexico. Shortly thereafter, migrants began throwing rocks over the fence at the CBP agents and officers. Several teenagers, wrapped in heavy jackets, blankets and rubber mats were put over the concertina wire." Due to the deployment of tear gas, most of the migrants returned to Mexico via a hole under the fence or by climbing back over the fence. -GEG
Around 100 Central American caravan migrants faced tear gas by U.S. Border Patrol agents after trying to sneak across the U.S. southern border from Tijuana, Mexico, on New Year's Eve.
"Once again we have had a violent mob of migrants attempt to enter the United States illegally by attacking our agents with projectiles," DHS spokesperson Katie Waldman said Tuesday.
"As has happened before – in this and previous administrations – our personnel used the minimum force necessary to defend themselves, defend our border, and restore order. The agents involved should be applauded for handling the situation with no reported injuries to the attackers."
"Initial reporting indicates that once the attempted illegal entry was thwarted by agents, the mob began pushing women and minors to the front, forcing minors to climb dangerous concertina wire, and encouraged conveniently invited media to begin filming their illegal acts," Waldman added.
"Unfortunately, Congress continues to ignore the professional advice from the men and women of the Border Patrol who have told them that walls work."