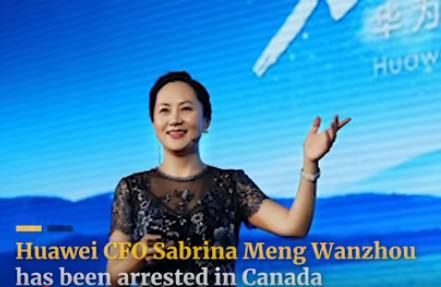 Trump reached a 90-day trade truce with China at the G20 meeting, but there was some confusion over it, and Trump later threatened that if China refused the deal, he is a "tariff man".  This agitated the stock market on Tuesday and led to an 800-point drop.  During the G20 dinner, unbeknownst to Trump, the US Department of Justice ordered the arrest of the CFO of Huawei, a Chinese tech giant with strong ties to the Chinese government.  The arrest is reported to be linked to violations of trade sanctions against Iran.  US intelligence agencies have warned that Huawei is a national security threat.
The Dow Jones Industrial Average fell sharply Tuesday, losing nearly 800 points for its fourth worst day ever on worries over the US-China trade deal and concerns over economic growth.  President Trump dined with Chinese President Xi Jinping on Saturday during the G20 trade summit and agreed upon a 90-day truce, with
reports
that some US tariffs could be repealed.  However, there was confusion over the start date and there were no written commitments, which contributed to the stock market drop.
.
As the diplomatic dinner took place, Chinese national Sabrina Meng Wanzhou, the CFO of Huawei Technology, was arrested in Canada on the orders of the US Department of Justice, without President Trump's knowledge.  However,
reports
indicate that Ambassador John Bolton was aware of the arrest as he sat also down for dinner at the G20 meeting.  Some critics have
speculated
that the arrest is an attempt by the deep state to embarrass and undermine Trump.  It is not known who ordered the arrest.  Canadian Prime Minister Justin Trudeau was reported to be aware of the arrest during the dinner.   Meng is facing extradition to the US from Canada.
.
Meng is the daughter of the founder of Huawei, a Chinese tech company that was ranked the seventh largest in the world, which specializes information and communications technology (ICT).  She was arrested for allegedly violating trade sanctions against Iran.
.
US intelligence agencies are very concerned over national security issues around Huawei and its smart phones that they claim can spy on users.  Google's smart phone is also capable of spying on users and stealing their data, but US intel agencies show very little concern about Google.  A Chinese analyst said that the US and China are competing against each other in global trade and both are trying to dominate the new 5G market.  The arrest could be used as a bargaining chip in trade with China.
.
In June, Facebook was
accused
of data sharing with Huawei, which was flagged as a 'threat' by US intelligence agencies.  Huawei was founded by a former engineer in the People's Liberation Army, and has close ties to the Chinese government. The CIA, NSA, and FBI and the Director of National Intelligence have warned American consumers not to use Huawei devices.  In October, a US-based tech startup, CNEX,
accused
Huaweiof stealing its technology for solid-state drive (SSD) for mass information storage and improperly recruited 14 of its employees.