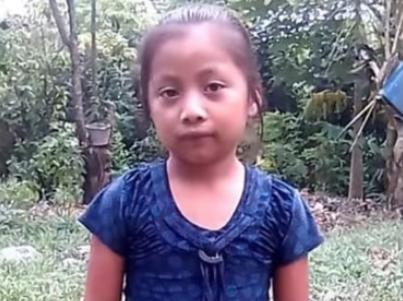 New Mexico: Jackelin Amei Rosmery Caal Maquin, 7-year old girl from Guatemala, died last week while in the custody of US Customs and Border Protection that reported she was severely dehydrated.  Jackelin was picked up along with her father and 163 other migrants in a remote stretch of the New Mexico desert, and after seven hours, she was put on a bus to the nearest Border Patrol station, but soon began vomiting.  She stopped breathing and was revived, but died in a hospital from cardiac arrest.  Democratic lawmakers, who favor mass immigration, are questioning border authorities' policies and
blaming
the Trump administration.  The people who brought the young child on the dangerous trek are to blame if reports are true that she had not been given anything to eat or drink for days, her father signed a form declaring that she showed no signs of trauma or distress when she was detained, and extreme efforts were made to save her life. 
The media is in the midst of exploiting the death of a 7-year-old immigrant child. The child was detained along with her father after crossing the border illegally. She died in government custody. Based on the facts as they stand now, there is absolutely no reason at all to blame her tragic demise on Border Patrol, despite the Left's attempts to do so.
Here are those facts:
1. She died only hours after entering government custody.
2. Reportedly, she hadn't been given anything to eat or drink for days beforehand.
3. According to a Border Patrol form, apparently signed by her father, the girl was showing no signs of trauma or distress when she was initially detained.
4. Hours later, she started vomiting. When she stopped breathing, she was revived by medics and airlifted to a hospital in Texas.
5. She died at the hospital, despite desperate efforts to save her life.
No honest or even decent person could look at this list and find any substantial reason to point the finger at Border Patrol. Barring some unknown information coming to light, it would appear that the responsibility for her death lies on the shoulders of those who took her on this perilous trek across the Mexican desert and did not provide her the basic necessities during the journey.
Incidentally, the girl was detained along with 163 people. As mentioned above, her father was in the group. But this raises a question: were the adults in her company also dangerously dehydrated and underfed? If not, it would seem that the group did have enough food and water for the trip, they just didn't give enough to the child. Whose fault would that be? Border Patrol? And if they didn't have enough food and water for anybody, and indeed many others in the group were in need of medical attention, then, again, whose fault is that? Who carries the blame for bringing a child on a hazardous trek through the desert without appropriate provisions?