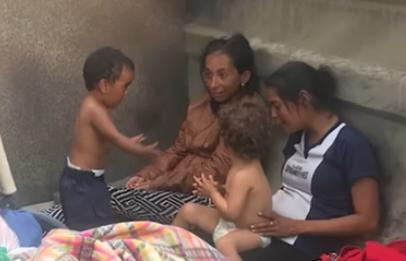 Venezuela's socialist/communist system has become even more dire as people literally are starving, suffering from lack of healthcare, and subjected to extreme, systemic violence. Women, some as young as 14, are turning to prostitution in search of a better life. Others are selling their hair and breast milk to support their families. Many Venezuelans with university degrees or decent jobs in what was once the wealthiest nation in Latin America, now are in survival mode. A doctor reported that some of his adult male patients now weigh no more than 77 pounds. Suicide is on the rise, because many feel that they are doomed to die anyway. Crime and violence have become rampant throughout the country. -GEG
Women fleeing socialist Venezuela have taken to capitalism in order to survive; selling sex, hair and breastmilk as they make the perilous journey into neighboring Colombia in search of a better life.
As Fox News' Hollie McKay reports, the Colombian border city of Cucuta is virtual chaos – as "Rail-thin women cradle their tiny babies, and beg along the trash-strewn gutters. Teens hawk everything from cigarettes to sweets and water for small change."
The young, the old and the disabled cluster around the lone Western Union office – recently established to deal with the Venezuelan influx – in the hopes of receiving or sending a few dollars to send home. Without passports or work permits, the Venezuelans – many with university degrees or decent jobs in what was once the wealthiest nation in Latin America – are now resorting to whatever it takes to survive. –Fox News
Men buying hair approach groups of women with their young children, offering them enough to feed their families for a short while. Local wigmakers in Colombia will pay between $10 – $30, depending on length and quality.
Other Venezuelan women – including girls as young as 14, resort to sex work on the streets of Cucuta – earning around seven dollars per john.
Both men and women are exposed to sex trafficking along the route from Venezuela to Colombia. According to several walkers, some women "chose" prostitution as a means to make money and earn rides along the way. And some heterosexual men "sell themselves on the gay market" for a little money.

Other women are manipulated or forced into giving "pimp types" their documents and identification cards, and are subsequently drawn into prostitution rings. That's particularly the case in border areas, where many rebel and drug-trafficking groups operate. –Fox News
Back home in Venezuela, the situation is dire – as the socialist country suffers from starvation, disease, a lack of healthcare and extreme violence. Children have been dying from hepatitis and malaria.