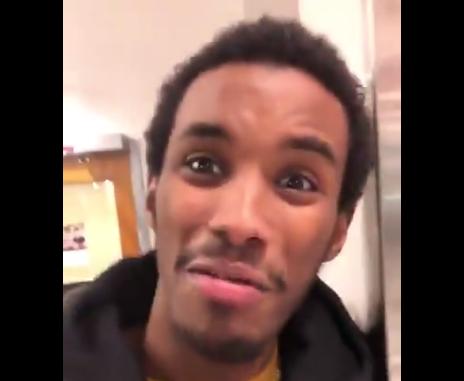 St. Paul, Minnesota: A store manager from the Chipotle fast food chain refused to serve Masud Ali, a black man, and several of his friends before they paid for their food, because they had ordered meals in the past and then refused to pay. Ali posted a video of the event, implying that he was refused service because he is black. His video received millions of views and was featured on Twitter. The Chipotle manager was labeled a 'racist' in newspapers and social media and was fired, even though Ali had numerous Twitter posts about how he was stealing food from restaurants.
.
Liberal Youtube personality, An0maly, values truth over politics in this video as he explains that social-media giants Twitter, Facebook, Youtube, and Google feature 'fake news' stories such as the Chipotle incident in order to divide Americans by pushing a false narrative of racism and bigotry. He cited another recent story about a drunk theater-goer who interrupted a production of
Fiddler on the Roof
 by shouting "Heil Hitler, Heil Trump," and was falsely accused of being a
right-wing Trump supporter
, when he was really a
leftist anti-Trump activist
.
.
An0maly criticizes mainstream and social media for pushing a 'victim mentality' on young people that causes them to attack anyone who does not subscribe to their leftist views by labeling them a racist, sexist, and a bad person who should suffer. He says these false narratives cover over real racism, coming mostly from those on the left who pretend to be virtuous. He says that lies from the mass media are dividing America, and he exhorts his fellow Americans to speak out against political correctness and victimhood. -GEG
The maker of a viral video alleging racism by Chipotle bragged on Twitter about dining and dashing at restaurants.
Masud Ali objected to Chipotle employees wanting proof that he would pay after the employees said he had previously made off without paying.
Chipotle fired its manager despite knowing about the subject's Twitter admissions and without reviewing Ali's history of theft.
Chipotle fired a manger for refusing to serve a black man she suspected had previously stolen food, despite the company knowing that he admitted on Twitter to repeatedly dining-and-dashing.
A company spokeswoman said it had "no choice" but to take the word of the 21-year-old, who was convicted of theft in January and previously pleaded guilty to another theft charge, despite having no evidence that the manager wrongly accused him.
St. Paul, Minnesota, resident Masud Ali posted a video on Twitter of Chipotle employees refusing to serve him and a group of black men after asking for proof that they would pay, saying that Ali had left without paying previously.
"Can a group of young well established African American get a bite to eat after a long workout session. @ChipotleTweets ??" Ali wrote in the tweet, which had received more than 70,600 retweets and nearly 31,500 likes at the time of publication.
The manager was fired after she was unable to say with "100 percent certainty" that Ali was the same person who stole food earlier in the week and after Ali denied being at the restaurant on the day in question, according to Chipotle.
The Minneapolis Star Tribune, among others, wrote up the story, and Good Morning America also reached out to Ali.
But Ali has openly bragged about dining and dashing, according to his Twitter feed.
"Not a dine and dash we're just borrowing the food for a couple hours," Ali said in one of many messages on the topic of making off with free food.
In a since-deleted post, he said "aye man I think chipotle catchin up to us fam. should we change locations and yoooo what should we do."