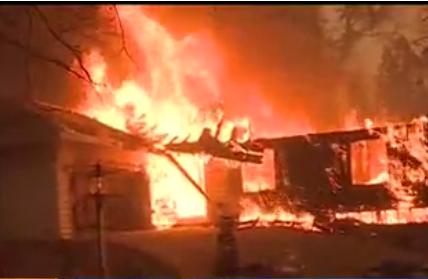 President Trump blamed two monster wildfires, burning out of control in northern and southern California, on forest mismanagement, and he threatened to withdraw federal funding.  In northern California, 23 people have died in and around the town of Paradise and more than 6,700 homes and businesses have been destroyed.  In north Los Angeles County, more than 250,000 people faced mandatory evacuation.
Fires
earlier this summer
were also fueled by drought-ravaged pine forests thick with dead and dying timber, with flames that leap from tree top to tree top, dropping embers onto more dry brush.
In the 1990s, burdensome regulations against cutting timber increased.  In some areas, especially on California forest land that is 60% owned by the federal government, timber harvesting stopped altogether,
according to Chuck DeVore
, a former California State Assemblyman.
President Donald Trump reupped his threats toward California on Saturday as it deals with deadly wildfires in the northern part of the state and the evacuation of thousands of people from smoldering homes near Los Angeles.
In a tweet, the president threatened to pull federal funding for the state if nothing is done to "remedy" the situation of recurring devastating wildfires and the response to these disasters.
Trump was tweeting while in Paris to take part in a commemoration for the 100th anniversary of the end of World War I, a diplomatic test of his testy relationship with French President Emmanuel Macron.
His comments drew mostly critical response from firefighting leadership in California.
At least nine people have died in the spate of wildfires this week, which are devastating thousands of acres. Most of the deaths were in the area of Paradise, Calif., near Chico. Almost the entire city of Paradise was decimated by flames early Friday.
The Woolsey Fire near L.A. exploded to more than 14,000 acres after starting Thursday in a tinder-dry canyon of Ventura County. It raced toward the Pacific Ocean and prompted mandatory evacuations of as many as 75,000 homes as of Friday, all the way to the coast in Malibu, where officials have confirmed two deaths, according to local television news.
Trump approved an emergency declaration for the state on Friday, but warned he may not do the same again. Emergency declarations provide municipalities with air support, relief supplies and evacuation transport.
It's not the first time Trump has criticized forest management in the state.
In August, Trump tweeted: "California wildfires are being magnified & made so much worse by the bad environmental laws which aren't allowing massive amounts of readily available water to be properly utilized. It is being diverted into the Pacific Ocean. Must also tree clear to stop fire from spreading!"