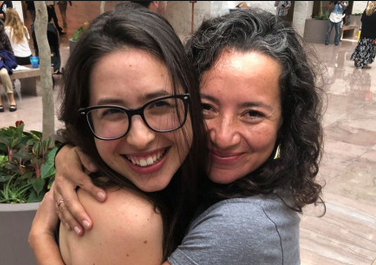 The Daily Beast, Think Progress and other leftist publications accused President Trump of peddling conspiracies after he tweeted that the activists who cornered Senator Jeff Flake in an elevator were paid professionals and that the professionally made identical protest signs were paid for by George Soros and others.  One of the screaming activists, Ana Maria Archila, 39, is an executive director of the Center for Popular Democracy (CPD), and
Soros donated $1.5 million to Center for Popular Democracy in 2016 and 2017 through his philanthropy organization Open Society Foundations.  A
ccording to Archila's tax form, she was paid $178,071 in 2016.  Socialist congressional candidate Alexandria Ocasio-Cortez leaked that Archila risked deportation for her protest action, indicating that Archila is an illegal alien.  A Soros-paid protester who is an illegal alien influenced the US Supreme Court confirmation process.
As media outlets accused the president of spreading a conspiracy about George Soros paying protesters, one protester admitted on MSNBC that she works for a Soros-funded activist group.
President Donald Trump slammed protesters opposed to Supreme Court justice nominee Brett Kavanaugh on Friday, accusing the women who confronted Republican Sen. Jeff Flake of being paid by billionaire liberal activist George Soros
The Daily Beast, Think Progress, and others accused Trump of peddling a conspiracy and expressed disbelief that the anti-Kavanaugh protesters might have been paid by Soros.
One of the two protesters who confronted Flake in the elevator is Ana Maria Archila, an executive director of the Center for Popular Democracy (CPD). The other protester, Maria Gallagher, is an activist with the group. The CPD is indeed heavily funded by George Soros through the Open Society Foundation.
The Center for Popular Democracy's homepage features an image of Archila and Gallagher yelling at Flake and urges supporters to "join" Archila.
During an interview on MSNBC Friday, Archila confirmed that she works for CPD and did not deny Trump's characterization of her efforts.
"Are you a paid professional?" MSNBC anchor Hallie Jackson asked Archila.
"I work for a community organization, I work for a network of community organizations," Archila said, adding that it is her "job" to organize people into action.
"If the president wants to know whether I work for a social justice organization, the answer is yes. And I've worked for a social justice organization since I was 23. That's not news," she asserted.
Additional Sources:
https://www.thegatewaypundit.com/2018/10/update-soros-elevator-activist-and-illegal-alien-ana-maria-archila-made-178071-in-2016-as-a-far-left-activist/
Ocasio-Cortez calls Kavanaugh liar in speech to college students (VIDEO)