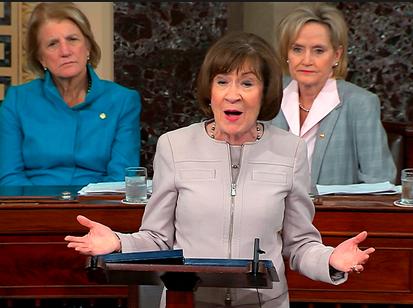 Republican lawmakers have been shouted down and intimidated by unhinged leftists leading up to Kavanaugh's confirmation, and now the GOP lawmakers are receiving death threats on their personal cell phones.  The Senators' private numbers are shared through a small pocket-sized book that is only issued to a small and trusted group of staffers.  Some leftists, enraged by
Senator Susan Collins
' support for Kavanaugh, have demanded she be forever harassed in public as a punishment for her decision.  Colorado Republican
Senator Cory Gardner
and his family members have been doxxed, with their names and home addresses made public, and Gardner's wife has received a gruesome video of a beheading.
The Democrats, led by Dianne Feinstein and Chuck Schumer launched the most evil smear campaign against Kavanaugh in modern times–and they still lost.
Republican lawmakers have been screamed at, assaulted and intimidated by unhinged leftists leading up to Kavanaugh's confirmation–now the GOP lawmakers are receiving death threats on their personal cell phones.
The hysterical liberals aren't taking the news well–tears flowed and they screamed at the sky.
Unhinged leftists also stormed the SCOTUS steps and pounded on the courtroom doors!
Now they're threatening to kill Republican Senators.

An unnamed GOP Senator told FOX News that Senators have had death threats text messaged and called in to their personal phones.
The Senator also said this is "unusual."
FOX News reported: Colleague Peter Doocy rpts a GOP senator says senators have had death threats texted to their person phones. Calls that "unusual." Also says some senators who flew home after Kavanaugh vote were accompanied by police for protection