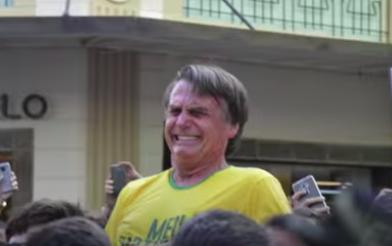 Brazil: Leading presidential candidate Jair Bolsonaro, a right-wing populist, was stabbed in the chest as he moved through a crowd during a rally in Rio De Janeiro.  The man who stabbed him was identified as Adelio Bispo de Oliveira.  Bosonaro's son says he will survive the attack. -GEG
His son tweeted out that he received damage to his liver, lungs and intestines and arrived at the hospital "almost dead."
•••
Jair Bolsonaro, a longtime politician and leading candidate in Brazil's presidential elections, was brutally stabbed during a campaign rally Thursday.
Right-wing presidential candidate Bolsonaro was stabbed in the abdomen by an assailant while passing through a large crowd of supporters. Footage shows Bolsonaro getting stabbed and then promptly rushed to a vehicle.
The stabbing occurred during a political rally in Juiz de Fora, a southern city in Brazil. The stabbing was just below the bulletproof vest he was wearing.
Bolsonaro is currently recovering in the hospital. His son, Eduardo, has said he will survive the attack.
Bolsonaro — a presidential candidate who doesn't hesitate to speak his mind — has been frequently referred to as the "Trump of Brazil." The leading presidential candidate has spoken out against same sex marriage, drug liberalization, affirmative action and other liberal policies. Like U.S. President Donald Trump, Bolsonaro has been a major critic of the Paris accord and has vowed to leave the agreement if elected president.