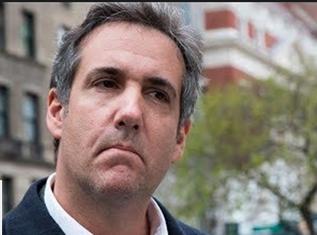 Donald Trump's former personal lawyer and 'fixer,' Michael Cohen, plead guilty to campaign-finance fraud for paying hush money to porn actress, Stormy Daniels, and ex-Playboy model, Karen McDougal. The reason this is considered campaign fraud is that Cohen says he paid the money to the women instead of Trump and that doing so was considered to be a campaign donation – which Cohen failed to report as such.  Trump's lawyers contend that the payments were not an indirect campaign donation but an attempt to avoid embarrassment. Other charges to which Cohen pleaded guilty involve bank fraud and income-tax evasion. He faces 46 to 63 months in prison. -GEG
On Tuesday, President Trump's personal attorney Michael Cohen surrendered to the FBI after reaching a plea deal with federal prosecutors in the Southern District of New York. Cohen is scheduled to appear in court at 4 PM ET today. According to advance reports, he will be charged with multiple counts of campaign finance violations, tax fraud and bank fraud. The New York Times explains:
For months, prosecutors in New York have been scrutinizing him for those crimes and focusing on his role in helping to arrange financial deals to secure the silence of women who said they had affairs with Mr. Trump.
Women, as in plural; the only woman we know Trump paid off via Cohen thus far was Stormy Daniels.
Given the information at our disposal thus far, Cohen could be pleading guilty to campaign finance violations for one of two reasons: either he gave an in-kind contribution to the campaign by handing cash to Trump's former lovers in advance of the election without implicating Trump, or he did so and implicated Trump. If the latter, Trump would be exposed to the possibility of a John Edwards-like prosecution; Edwards, you'll recall, was a 2008 Democratic presidential candidate who had his donors pay off his lover, Rielle Hunter, to keep her quiet during the campaign. He was prosecuted, but the jury hung, and the charges were dropped.