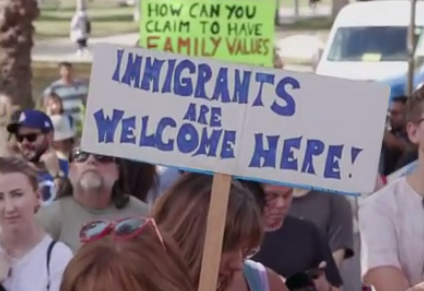 Ramon Pedro arrived at a land border crossing in Texas with a girl whom he claimed was his daughter, and authorities took them into custody and were released them together, instead of separating them, under the condition that they would show up for their immigration court hearings.  The pair were admitted to Fresno Community Regional Hospital in California to undergo screening for Tuberculosis when doctors determined the girl had been raped.  Officials discovered that Pedro was not the father and that the young victim had been told by her mother "to accompany Pedro to the United States" so he could find the mother a job.  He was arrested on charges of rape, forcible sexual penetration, oral copulation, and endangering/causing injury to a child.
An illegal alien from Guatemala who claimed he was traveling to the U.S. with his "daughter" in April has been arrested just months later for multiple felonies, including repeated rape and other sexual abuse of the young child.
"On April 16, 2018 Ramon Pedro entered the United States through the Ysleta Port of Entry in Texas where he was accompanied by his alleged daughter. On the same date, U.S. Customs and Border Protection arrested him and his alleged daughter. They were subsequently released on alternatives to detention," a Department of Homeland Security official said in a statement.
Pedro crossed the border illegally and did not claim asylum.
"On July 26, 2018, Ramon Pedro and his alleged daughter were hospitalized at the Fresno Community Regional Hospital for Tuberculosis (TB) screening. At this time, medical staff discovered that Pedro's alleged daughter was being sexually assaulted and the local police were notified. Then it was determined that Pedro and the daughter are not related at all. In fact, the victim's mother told her daughter to accompany Pedro to the United States and he would secure her employment," the official continued. "On July 27, 2018, the Huron Police Department arrested him for multiple felony offenses for rape, oral copulation, forcible sexual penetration, and endangering/causing injury to a child. He is currently detained in Fresno County Jail on a $310,000 bond."
As Townhall has previously reported, without extensive DNA testing, there is no way to determine if adults traveling with children are actually parents.
In June, Homeland Security Secretary Kirstjen Nielson explained why separation of children from adults is necessary to make sure they are not being abused or trafficked.