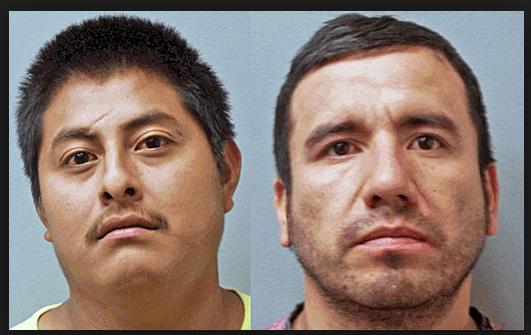 Alabama: According to reports, an illegal alien, Israel Gonzalez Palomino, believed to be tied to the Sinaloa drug cartel gang, is accused of murdering a grandmother in front of her 13-year-old grandchild, who was then taken into the woods and her head was sawed off with a knife by the man's cohort, Yoni Martinez Aguilar, 26, who was the live-in boyfriend of the grandmother, and also an illegal alien.  The grandmother, Oralia Mendoza, 49, allegedly helped the men transport a quarter kilo of meth from Georgia and they feared she was going to tell the police.  Drug cartels have been allowed to cross the border and are now operating with impunity in the US.  Mainstream media has ignored this gruesome murder because the hyper violence of Mexican drug cartels will turn the public against Democrats' open border policies.
Alabama law enforcement officials say that an illegal immigrant and an immigrant in the United States on a green card are responsible for the brutal murders of a grandmother and her 13-year-old special needs granddaughter in what investigators say is violence related to Mexican drug cartels.
AL.com reports:
A 13-year-old Huntsville girl was beheaded after she witnessed her grandmother assaulted with a knife and left to die on the ground in a cemetery, court testimony revealed.
The grandmother, 49-year-old Oralia Mendoza, was allegedly connected to the Sinaloa Mexican drug cartel which is widely considered to be the largest and most powerful drug trafficking organization in the world.
Investigator Stacy Rutherford told a court on Thursday that Mendoza traveled to Georgia in early June to pick up a batch of methamphetamine with Israel Palomino, 34, Yoni Aguilar, 26, and Leticia Garcia.
Rutherford testified that Mendoza and Garcia were both connected to the Sinaloa Cartel and Palomino suspected that something went wrong during the drug pick up when he discovered after the alleged drug pick up that Mendoza removed the SIM card from her phone. ABC 31 reports:
He also found a text message sent to an unknown woman during the Georgia drug run, investigators said. In that text, Mendoza asked the woman to pick up her granddaughter from Palomino's wife because she was afraid for their lives, they said.
Authorities say that Mendoza and Aguilar lived together and were dating and that she had dated Palomino in the past.