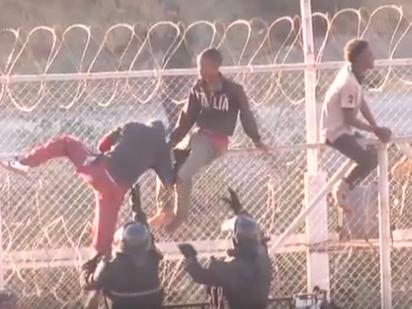 An estimated 800 sub-Saharan migrants attempted to cross the border between Morocco and the Spanish enclave of Ceuta at 6:45am through a 23-foot high fence. 602 of them succeeded and now are applying for immigration. 15 law-enforcement officers were injured in the clash. The invaders with homemade shields threw stones, Molotov cocktails, and feces at police. They also used gasoline sprays to make flamethrowers. [Can't imagine why anyone would not welcome these people into their homeland, can you?} -GEG
Migrants attempted to cross the seven-meter high fence separating Morocco from Spain at 6:35 a.m. They threw stones, homemade shielrs, Molotov cocktails, feces and hashish at law enforcement representatives and used sprays as flamethrowers. The migrants also tried to cut the barbed wire on the fence with scissors and hammers. Once inside Spanish territory, they threw stones at cars of the Civil Guard.
Border agents arrested hundreds on the Moroccan side and more were detained in Ceuta, El Pais reports.
According to The Local.es, the scramble over the barrier is the biggest in Ceuta since February 2017, when more than 850 migrants entered the overseas territory over four days.
It comes as Spain becomes the number one destination for migrants crossing the Mediterranean by boat, surpassing Italy with 19,586 arrivals so far this year, according to the International Organization for Migration.
592 migrants who managed to cross the border had applied with the International Organization for Migration; 132 of them were injured, and 11 migrants were taken to hospitals.