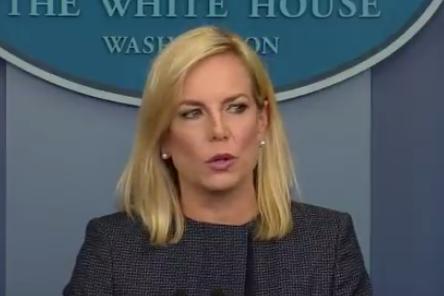 Homeland Security Secretary Kirstjen Nielsen revealed that 10,000 out of 12,000 children who are being cared for by the HHS were sent alone to the US by their parents, and that is when they were separated. Politicians are conflating the numbers together to make it seem as though Trump is responsible for tearing apart thousands of families, while the media stirs up emotions.
There are 10,000 unaccompanied alien children being held in shelters who are not from Mexico and Canada, most are from Central America. They are exempt from immediate deportation, under the Trafficking Victims Protection Reauthorization Act of 2008, a loophole that needs to be closed by Congress.
Homeland Security Secretary Kirstjen Nielsen joined Press Secretary Sarah Sanders at the White House briefing on Monday to discuss the administration's position on border security and migrant family separation.
During the media hysterics and abuse Secretary Nielsen dropped this bomb.
It fell flat with the media who were only wanting to use the venue to attack Trump.
Kirstjen Nielsen: So I want to be clear on a couple things. The vast majority, vast, vast, majority of the children who are in the care of HHS right now, 10,000 of the 12,000, were sent here alone by their parents. That's when they were separated. Somehow we've conflated everything.