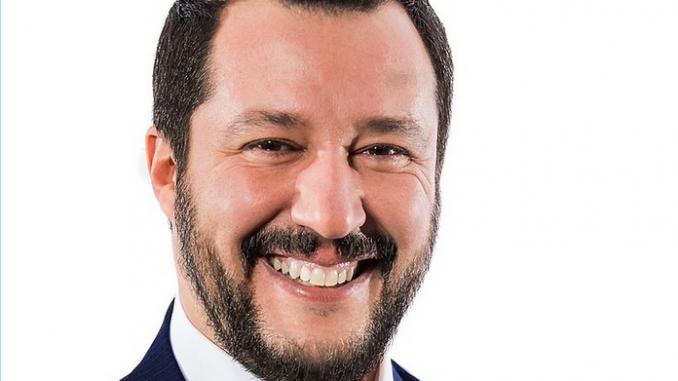 Matteo Salvini, Italy's new far-right minister of the interior, refused to let 'Aquarius', a private ship carrying 629 refugees, to dock. This is the first time that political rhetoric from an Italian interior minister has been enforced.  Italy is saying 'no' to the business of illegal immigration. Italian ports may remain open to its own rescue boats, but are expected to be closed to all NGOs, which have been accused of aiding illegal immigration in the past. The tiny island of Malta also rejected the Aquarius, but Spain has agreed to welcome it.
A private 'rescue' ship carrying 629 migrants remained Sunday evening on a northward course in the Mediterranean Sea after more than a day of not receiving permission to dock in either Italy or the small island nation of Malta.
Aid group SOS Mediterranee said the passengers on its ship, the Aquarius, included 400 people who were picked up by the Italian navy, the country's coast guard and private cargo ships and transferred. The 'rescue' ship's crew itself pulled 229 migrants from the water or from traffickers' unseaworthy boats Saturday night, including 123 unaccompanied minors and seven pregnant women.
The Aquarius and its passengers were caught up in a crackdown swiftly implemented by the right-wing partner in Italy's new populist government, which has vowed to stop the country from becoming the "refugee camp of Europe."
"Starting today, Italy, too, begins to say NO to the trafficking of human beings, NO to the business of clandestine immigration," Interior Minister Matteo Salvini, leader of the anti-mass migration League party, tweeted Sunday.
Salvini and Italian Transportation Minister Danilo Toninelli, who is part of the 5-Star Movement faction in the new government, said in a joint statement Sunday that it was Malta's responsibility to "open its ports for the hundreds of the rescued on the NGO ship Aquarius."
"The island can't continue to turn the other way," the ministers said. "The Mediterranean is the sea of all the countries that face it, and it [Malta] can't imagine that Italy will continue to face this giant phenomenon in solitude."
The Maltese government, however, was not moved. It said in a statement that the Aquarius took on the passengers in waters controlled by Libya and where Italian authorities in Rome coordinate search-and-rescue operations.
The Maltese Rescue Coordination Centre "is neither the competent nor the coordinating authority," the statement said.
SOS Mediterranee spokeswoman Mathilde Auvillain told The Associated Press the ship was "heading north following instructions received after the rescues and transfers" Saturday night. The Rome-based rescue coordination centre gave the instructions.
The aid group said in a statement it had taken "good note" of Salvini's stance, as reported earlier by Italian media. It added that the Aquarius "is still waiting for definitive instructions regarding the port of safety."