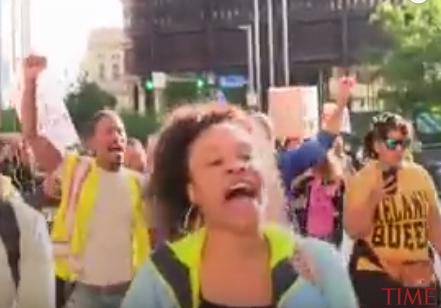 Pittsburgh: Protests continue following last week's shooting death by a police officer of Antwon Rose, 17, who was unarmed and fled the scene. Antwon was a passenger in a car that was stopped because it fit the description of a vehicle involved in a drive-by shooting and there were bullet holes in the window. Two semi-automatic weapons were found inside the car and Antwon had an empty 9mm clip in his pocket. The police officer has been placed on administrative leave. Protesters are calling for the District Attorney's ouster as he has not filed charges against the police officer.
Protesters angry over the death of an unarmed teen who was shot by police this week marched Friday for the third straight night down the streets of downtown Pittsburgh.
Four people were arrested as hundreds of demonstrators blocked streets, Allegheny County Police Superintendent Coleman McDonough said.
Police are looking for a black sedan that drove through the crowd late Friday, said Chris Togneri, the city spokesman. No injuries were reported, he said.
Protesters were near PNC Park, where fans were leaving a Pittsburgh Pirates baseball game, when the car drove through,
CNN affiliate KDKA reported
.
'How do you justify that?'
Antwon Rose
, 17, was shot by an officer three times on Tuesday as he attempted to flee a car stopped by police. Rose was one of two passengers in the car, which matched the description of a vehicle that had been involved in an earlier shooting, Allegheny County Police said.
East Pittsburgh Police Officer Michael Rosfeld fired on Rose from behind, hitting him in three spots, police said.
The manner of Rose's death was listed as homicide, the Allegheny County Medical Examiner's Office said.
"Three shots in the back, how you justify that?" protesters chanted Friday.
Demonstrators carrying a sign that read, "Fire killer cops," led hundreds of supporters to the Homestead Grays Bridge, halting traffic for a few hours.
Those arrested face charges for failure to disperse and, at least one, for resisting arrest, McDonough told KDKA.
'He wasn't that boy'
Tia Taylor, who went to high school with Rose, addressed the crowd, offering a heartfelt testimony of him.
"He wasn't the person to be out here doing anything he didn't have no business doing. He wasn't that boy," Taylor, a student at Woodland Hills High School, said through tears.